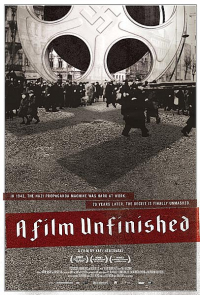 A Film Unfinished
| | |
| --- | --- |
| Release | August 18, 2010 (Limited) |
| Cast | Alexander Beyer, Rüdiger Vogler |
| Director | Yael Hersonski |
| Writer | Yael Hersonski |
| Genres | Documentary |
| Studio | Oscilloscope Laboratories/Kinosmith |
| Length | 89 mins. |
Synopsis
A full decade after the end of the war, East German archivists finally began to sort through what remained of Hitler's propaganda machine. Thousands of films were discovered in the exact location in which they had been stashed, a concrete vault hidden in a forest. It is also there that one lone copy of a film was found, over one hour long, with no soundtrack, no notes, no opening or closing credits and only a brief title, Ghetto. It was a rough cut, first draft of the longest Nazi propaganda film ever shot inside the Warsaw ghetto, the squalid home for half a million Jews living in three square miles, where poverty and typhus were rampant before the ghetto's destruction.
With A Film Unfinished, director Yael Hersonski creates an unimagined intensity and focus by screening all of the reels of the silent, unfinished film interspersed with firsthand accounts from now-elderly residents who actually lived in the ghetto at the time, as well as – amazingly – an interview with the only Nazi cinematographer ever identified with the production.
Sequences were staged to falsely suggest that some Jews enjoyed "the good life" in the ghetto. Multiple takes of luxuriously-dressed residents thoughtlessly stepping over the bodies of fellow Jews, for example, were discovered, as well as a choreographed dinner party. Beneath the furs were the emaciated bodies of "actors" fearful for their lives.
Throughout, viewers cannot forget that what they are viewing — both Hersonski's film and the now-infamous Nazi propaganda footage from the ghetto — as it both documents some of the worst horrors of our time and exposes the efforts of its perpetrators to propel their agenda and cast it in a favorable light.
Movie Releases by Year
2024 • 2023 • 2022 • 2021 • 2020 • 2019 • 2018 • 2017 • 2016 • 2015 • 2014 • 2013 • 2012 • 2011 • 2010 • 2009 • 2008 • 2007 • 2006 • 2005 • 2004
Search SBM Archives