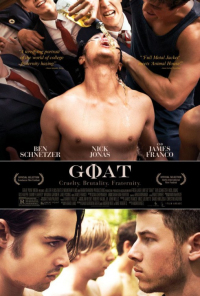 Goat
| | |
| --- | --- |
| Release | September 23, 2016 (Limited) |
| Cast | Nick Jonas, James Franco, Ben Schnetzer |
| Director | Andrew Neel |
| Writer | David Gordon Green |
| Genres | Drama |
| Studio | Killer Films/Paramount Pictures |
| Length | 96 mins. |
Synopsis
Brad (Ben Schnetzer) feels compelled to follow in his older brother's (Nick Jonas) footsteps and pledge to a college fraternity.
Still trying to get over an earlier assault, Brad finds the hazing process for Phi Sigma Mu more brutal and inhumane than he'd expected. He's forced to assault others and be assaulted, to drink to dangerous excesses and to eat out of a toilet bowl during a process called "Hell Week."
As the pledges get more and more disturbing, both brothers begin to question whether or not the fraternity "brothers" are going too far.
Based on Brad Land's anti-hazing memoir, Goat.
Movie Releases by Year
2024 • 2023 • 2022 • 2021 • 2020 • 2019 • 2018 • 2017 • 2016 • 2015 • 2014 • 2013 • 2012 • 2011 • 2010 • 2009 • 2008 • 2007 • 2006 • 2005 • 2004
Search SBM Archives