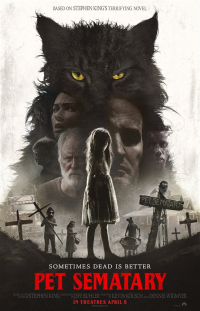 Pet Semetary
| | |
| --- | --- |
| Release | April 5, 2019 (Wide) |
| Cast | Jason Clarke, John Lithgow, Amy Seimetz |
| Director | Kevin Kölsch, Dennis Widmyer |
| Writer | David Kajganich, Jeff Buhler |
| Genres | Horror |
| Studio | Paramount Pictures |
| Length | 103 mins. |
| Website | www.facebook.com/PetSemataryMovie |
Synopsis
Louis Creed (Jason Clarke) is a doctor who makes the decision to move with his wife Rachel (Amy Semietz) and their two young children from the bustling city of Boston to rural Maine. Their new home features acres of woods on the property, which also happens to be the location of a mysterious burial ground for pets.
Following a horrific tragedy, Louis seeks the help of his offbeat neighbor, Jud Crandall (John Lithgow), which sets of a chain reaction of horrifying evil and devastating consequences.
Based on the supernatural horror novel Pet Semetary by Stephen King.
Movie Releases by Year
2024 • 2023 • 2022 • 2021 • 2020 • 2019 • 2018 • 2017 • 2016 • 2015 • 2014 • 2013 • 2012 • 2011 • 2010 • 2009 • 2008 • 2007 • 2006 • 2005 • 2004
Search SBM Archives