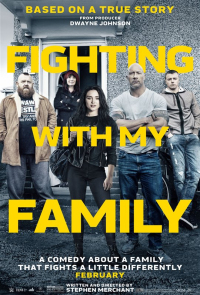 Fighting with My Family
| | |
| --- | --- |
| Release | February 14, 2019 (Limited) |
| Cast | Florence Pugh, Lena Headey, Nick Frost, Jack Lowden, Vince Vaughn, Dwayne Johnson |
| Director | Stephen Merchant |
| Writer | Stephen Merchant |
| Genres | Comedy |
| Studio | MGM Pictures |
| Length | 128 mins. |
| Website | www.fightingwithmyfamily.movie |
Synopsis
Paige Knight (Florence Pugh) and her brother Zak (Jack Lowden) want to be professional wrestlers, and are encouraged by their father, reformed gangster Ricky (Nick Frost) and their mother, Julia (Lena Headey). Although Paige is bullied and called "weird" by other girls because of her family, when she and Zak get a call from Hutch Morgan (Vince Vaughn), offering them an opportunity to try out for WWE, the entire family is beyond thrilled.
The British siblings travel to the States in order to try out for this once-in-a-lifetime chance. There, they meet former wrestler Dwayne "The Rock" Johnson, who gives them advice. However, after going through rigorous boot camp training, only Paige is chosen by Hutch to continue on to a career in professional wrestling.
Based on a true story.
Movie Releases by Year
2024 • 2023 • 2022 • 2021 • 2020 • 2019 • 2018 • 2017 • 2016 • 2015 • 2014 • 2013 • 2012 • 2011 • 2010 • 2009 • 2008 • 2007 • 2006 • 2005 • 2004
Search SBM Archives