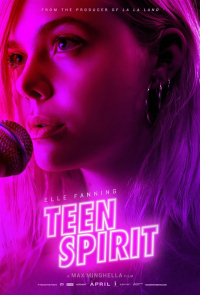 Teen Spirit
| | |
| --- | --- |
| Release | April 19, 2019 (Limited) |
| Cast | Elle Fanning, Rebecca Hall |
| Director | Max Minghella |
| Writer | Max Minghella |
| Genres | Drama |
| Studio | LD Entertainment, Bleecker Street/Elevation Pictures |
| Length | 92 mins. |
| Website | www.bleeckerstreetmedia.com/teenspirit |
Synopsis
Violet (Elle Fanning) is a teenager who dreams of being a professional singer, but she lives in a small town, where she works as a waitress and helps out with the farm chores.
One day she sees a billboard for a singing competition called Teen Spirit and decides to take a chance an audition. With the help of an unlikely mentor, she manages to get much farther in the compeition than she'd ever dreamed.
Featuring songs by Ellie Goulding, Tegan & Sara, Annie Lennox, Orbital and Robyn, sung by Elle Fanning.
Related Posts
Movie Releases by Year
2024 • 2023 • 2022 • 2021 • 2020 • 2019 • 2018 • 2017 • 2016 • 2015 • 2014 • 2013 • 2012 • 2011 • 2010 • 2009 • 2008 • 2007 • 2006 • 2005 • 2004
Search SBM Archives