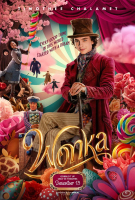 Friday, December 15 (Wide)
Perfecting his craft over seven years of traveling, Willy Wonka (Timothée Chalamet) lands himself in England, aiming for the top of the chocolate standards. Claiming himself a magician, inventor, and chocolate maker, Wonka needs to find a way to stand out amongst his competition.
Friday, December 15 (Streaming)
Dan Morgan (Mark Wahlberg) loves his quiet suburban life as a devoted husband, father of three and successful car salesman. But that's only half the story. Decades earlier, he was an elite government assassin tasked with eliminating the world's deadliest threats.
Friday, December 15 (Limited & Streaming)
The rise and collaborations of a group of legendary session musicians Danny Kortchmar, Leland Sklar, Russ Kunkel, and Waddy Wachtel through the 1970s and onward, chronicling their illustrious partnerships and their formidable record of hit-making.
Friday, December 15 (Limited)
English professor and author Thelonious "Monk" Ellison (Jeffrey Wright) writes a satirical novel under a pseudonym, intending to expose the hypocrisies of the publishing industry.