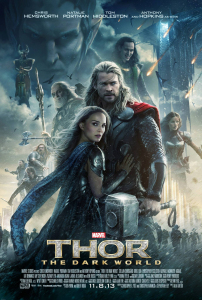 Trailer Review: THOR: The Dark World Trailer #1
Filed under: Reviews
San Diego Comic Con might be done for another summer but that doesn't mean the geeking out has to end also. Oh no true believers, the geeking out is far from over. Today citizens of Midgard were graced with the first full new trailer for Thor: The Dark World, and all the nine realms rejoiced. For those of you that missed it feast your eyes on the video below:
Looks dark, very sci-fi, and all kinds of awesome right?
Being the first full length trailer for Thor: The Dark World we get a little more info than what was previously revealed in the teaser from earlier this summer. But not very much. Plot wise everything is still a mystery. As you saw there looks to be plenty of death and destruction on both Asgard and Midgard (aka Earth) in this trailer but it's a little light on motive for why. That being said there are still a bunch of other great visuals to tie fans over till November. Here are just some of the highlights I took from this trailer:
A Thor & Loki alliance appears to happen. Even if only temporary this will be a big deal in a post-Avengers world.
Anthony Hopkins as Odin gives some very ominous, yet vague, narration about the impending doom.
Jane Foster (Natalie Portman) giving Loki a sucker punch across the jaw for New York.
Glimpses of the main villain Malekith (played by Christopher Eccleston) and his followers from the darkest of the nine realms.
The first Thor film was very smart in its execution as it's character story felt intimate while the action still was grand in scale. It was the first Marvel movie to show there are bigger worlds and bigger threats beyond Earth; opening the door for Marvel's The Avengers. This sequel looks to further explore those worlds and those threats.
Earlier this summer Marvel had Iron Man 3 be the first film in their Phase 2 collection of films to lead up to another Avengers. What Iron Man 3 failed to do (among many other things which I won't get into now) was to start another path to a cross-over film. The Dark World will be the second film in Marvel's Phase 2, and even though we don't get to see any of it in this trailer here, this Thor sequel is supposed to yet again act as a bridge to another franchise in next summer's Guardians of the Galaxy. The first Thor was a surprise hit to most as well as arguably the most important film of all of the Phase 1 Marvel films (***only if you don't count the first Iron Man for starting it all***). With Iron Man 3 dropping the ball all the pressure is on Hemsworth to get Phase 2 going with his franchise. As long as they don't pull a Mandarin, The Dark World should be awesome.
Lastly I wanted to include a video from this past Comic Con that might trump this new Thor trailer. Before Marvel brought out it's casts for Captain America: The Winter Soldier and Guardians of the Galaxy, and showed some footage from each them, and before Joss Whedon came out and announce Avengers 2 was going to be called Avengers: Age of Ultron, Tom Hiddleston took to stage as Loki. Granted this is old geek news by now but I thought it fitting to include with the new Dark World trailer.
Obviously there is no footage of the new Thor flick in that clip because those get pulled from the web as fast as they are uploaded. But from what I've heard the Comic Con stuff is very different than this new trailer. I, like most movie fans, hate spoilers so I stayed away from any leaked SDCC footage of Dark World because its supposedly gives a lot away. Personally I'm willing to wait till the Bifrost opens back up on November 8 for this one.
Follow Andrew on Twitter.
Tags: THOR: The Dark World, THOR, Avengers, Chris Hemsworth, Natalie Portman, Tom Hiddleston, Anthony Hopkins, Christopher Eccleston, Iron Man 3
Related Posts
Andrew Burns loves film and comics, and can be found writing about when those worlds converge. You can follow him on Twitter at @myAndrewBurns.
Search SBM Archives