Since it's an irrefutable fact that everyone loves lists... we bring you our Top Fives (and occasionally Top Tens)!
Posted by: Sarah Miller • June 15, 2008 @ 12:16am
This issue of Top Fives is brought to you by wishful thinking and procrastination. We live in a land where summer is short-lived and sunshine is just a memory for eight or nine months of the year. Please enjoy.
Top 5 Songs About Summer by Ariana Heppner
5. Cruel Summer, Bananarama (*)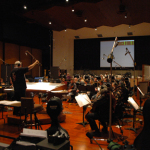 Posted by: Sarah Miller • March 3, 2008 @ 3:02am
In honour of the Oscars having taken place last week, we bring you film-themed Top Fives! We realize it might have been good to post this pre-Oscars so you could download all of the wonderful movie music we have picked to get yourselves ready for the ceremony, but as usual, we're a day late and a dollar short.
Posted by: Sarah Miller • February 4, 2008 @ 12:43am
The 50th birthday of the Grammy Awards is almost upon us, and in honour of this momentous occasion we decided to come up with a list of our 50 Favourite Songs of 2007.
Just kidding. That would be ridiculous. And impossible. And would probably end in fisticuffs.
Posted by: Sarah Miller • December 20, 2007 @ 2:44am
During the holiday season, we know there's one thing none of us can get enough of, and that thing is Christmas music. Since you're stuck listening to it as you stroll through malls from Halloween right through the Boxing Day Super Sales, you may as well be listening to the good stuff when you get home and start wrapping presents.
Search SBM Archives