In this long-running and popular feature, film buff Mike Walkey gives us his often-personal perspective on some of the day's biggest stories in film and television.
Posted by: Mike Walkey • January 7, 2017 @ 8:17pm
Jimmy Kimmel has been tapped to host this year's Academy Awards on February 26, 2017. La La Land has already positioned itself as the odds-on favourite to win Best Picture before the nominations have been announced.
Posted by: Mike Walkey • February 29, 2016 @ 6:01pm
Well, that was interesting...
One of the best things to happen to the Oscars this year was the #OscarsSoWhite backlash and negative press the Academy received for lack of diversity in its nominees.
Posted by: Mike Walkey • January 17, 2016 @ 5:13pm
How do you really know if a movie actually gets snubbed? Isn't art subjective? If so, then wouldn't the "snubs" the Academy is guilty of be just a matter of personal taste?
At the end of every year, critic groups from major North American cities like Los Angeles, New York, Chicago, Toronto, and Boston name their Best Pictures.
Posted by: Mike Walkey • January 3, 2016 @ 1:50pm
Part One: Ambition
I hate writing traditional movie reviews. I hate having to express myself within the confines of a structured checklist. Here's the plot summary. The acting was strong. The writing was confident. The sets were pretty. The music was loud.
Worst of all is having to rate films though some kind of metric: numbers, letters, stars, thumbs, tomatoes, etc.
Posted by: Mike Walkey • December 28, 2015 @ 5:39pm
Is it really possible that Creed, the SEVENTH film in the Rocky franchise, could actually be that good? Seriously? For real?
I love the Rocky movies. I love every minute of each and every one, no matter how gloriously awful they've become.
Posted by: Mike Walkey • October 27, 2015 @ 7:52pm
When I was in school, a teacher would sometimes catch me doing something I wasn't supposed to be doing.
Whenever they'd ask, "Michael, what are you doing?"
"Just putting on the second coat now!" was always my favourite response.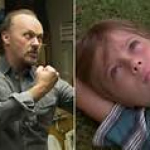 Posted by: Mike Walkey • February 22, 2015 @ 10:02am
Life lessons can occur anywhere. Epiphanies happen anytime. And in the most unusual places. Like riding on a bus for example...
"Why is Boyhood considered good? Nothing happens. It's about the boring mundane things that happen in a person's ordinary life. I go to the movies to escape my boring routine life. If I wanted reality, I'd look out the window.
Posted by: Mike Walkey • March 2, 2014 @ 12:19pm
It's been a two picture race since last fall between 12 Years a Slave and Gravity. 12 Years a Slave has always been seen as the front runner, but in recent weeks Gravity's popularity has been increasing. The movie with the most nominations, as Gravity has, wins the majority of the time.
Posted by: Mike Walkey • April 13, 2013 @ 4:10pm
I knew this day would come soon. It always comes eventually. Legendary American Film critic Roger Ebert passed away April 4, 2013 after over a decade long battle with cancer of the thyroid and salivary glands. I'm obligated to write something in his honour. Not because I was asked to. Because I want to. But I really do have to. I have to. I must.
Posted by: Mike Walkey • February 27, 2013 @ 5:56pm
The Oscars are a funny breed. Trying desperately every year to be hip and every year ever so slightly missing the mark. On paper, they should be huge: Hollywood is a multi-billion dollar industry filled with globally recognizable employees.
Search SBM Archives