We rant, we rave. When one of our writers wants to applaud something great happening in television or get out some steam, this is where you'll find it.
Posted by: Tony Hinds • April 19, 2014 @ 5:22pm
You get the impression that no matter the story... if it begins within the world of Joel and Ethan Coen's Fargo, all must inevitably turn to blood and violence.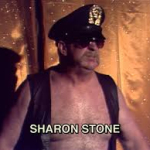 Posted by: Tony Hinds • December 30, 2013 @ 6:18pm
In prepping this article, I had one goal in mind: Shed a bit of light on some of this year's finest work in TV comedy.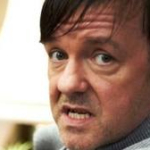 Posted by: Tony Hinds • September 12, 2013 @ 7:42pm
Earlier this summer, Netflix brought Arrested Development back from the dead and now, they turn their powers of resurrection to another, less known comedy character, a friendly English bloke, named Derek. Created by Ricky Gervais as a one-off character for The 11 O'Clock Show, Derek has always had a million dollar heart and ten dollar brain.
Posted by: Tony Hinds • August 27, 2013 @ 6:32pm
When we first meet Nathan Flomm, he is sailing down a California highway in a luxury convertible, blasting Chicago's "25 or 6 to 4". Singing along, he bobs his head-- seemingly content with his life. Little does he know, he is mere hours away from ruining that very life.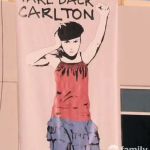 Posted by: S.P. Young • July 23, 2013 @ 2:58am
"But I'd never give up being deaf to be just like everyone else."
On the surface, Switched At Birth is a drama about worlds that collide together. Two teenage girls find their birth families, and everybody moves in together.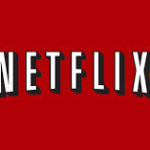 Posted by: Tony Hinds • July 2, 2013 @ 3:58pm
Netflix might be the future. The revolutionary little service that allows you to stream movies and television dang near anywhere --including your smart phone and tablet-- has grown by leaps and bounds since its mail-order rental days.
Posted by: Tony Hinds • February 1, 2013 @ 8:38pm
American Horror Story has been on my radar from the moment it was announced. I've always loved the horror genre's sporadic stabs at the small screen (from Night Gallery to American Gothic) and am more than ready to welcome new additions. But as I watched this 2nd season -- I realized I could never write about the show on a week to week basis.
Posted by: Tony Hinds • October 26, 2012 @ 4:28pm
This is why I love episodic TV: When it is at its best, you inevitably arrive at a point -mid-season- where the show's creators have so many plot strands, so many plates spinning -- that all you can do is sit back and admit: I have no clue how this season is going to end but, I don't care.
Posted by: Tony Hinds • August 4, 2012 @ 4:16pm
One of Breaking Bad's most unsettling moments takes place in the third episode of season five. Skyler (Anna Gunn) lies in bed. The sounds of nearby gunshots are audible. She goes to the living room, where she finds her husband Walter (Bryan Cranston) and their disabled son Walt Junior (RJ Mitte) laughing gleefully as they watch Brian De Palma's Scarface on TV.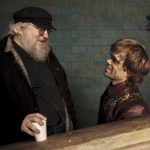 Posted by: Tony Hinds • May 27, 2012 @ 3:15pm
I've heard many people say things like "Game of Thrones is the cooler/ better/ non-lame/ whatever version of Lord of the Rings." Their slightly inarticulate implication being that Thrones is a vastly superior take on the old medieval fantasy genre. I totally agree. But really, it is so much more than that.
Search SBM Archives