The 10 greatest moustaches in film and television history (plus a few more)
Filed under: Top Fives
Moustaches: the symbol of manliness. While in recent years, it appears moustaches have tragically gone "out of style", there should be little doubt that in their heydey, they were the ultimate fashion statement for men. No matter what the style -- the casual 'stache of the 70s that showed you didn't give a damn, the thick moustache of the 80s that told everyone you could kick their ass, the pencil-thin moustache that screams out evil villain (or John Waters), or the thick and curly moustaches of turn-of-the-century criminals and crazy prospectors -- a moustache is the furry window into a man's soul.
This post and list has, through the help of moustache love and search engine goodness, become by far the most popular in ShowbizMonkeys.com history. Thus, we will continue to return to this space from time to time in Movember (in honour of prostate cancer research!) to update this list with new additions that either missed the timing of our original post (2008) or we just, frankly, missed completely. So whether you spell it mustache or moustache, enjoy our Top 10 and our growing additional list.
Of course, feel free to continue to debate the names originally on, added to, and still missing from the list in the comments below. Who knows? It could influence who we add in the future!
10. Sascha Baron Cohen (Borat: Cultural Learnings of America for Make Benefit Glorious Nation of Kazakhstan)
As a way to show how out-of-touch Khazakhstan is with the modern world, as well as to show he was a man's man, Borat wore his moustache proudly. Of course, the moustache wasn't the only body hair used by Sascha Baron Cohen for comedic effect in Borat, but it's his most recognizable (one would hope). Eastern European moustaches are funny, plain and simple. Plus it lets Cohen hide behind his character when out on the street making fools of people left and right -- proving their usefullness.
9. Alex Trebek (Jeopardy)
Sure, he shaved it off a couple years ago (one can only handle being that manly for so long before it takes a toll on one's life) but the Jeopardy host was known for years as much for his moustache as he was for his hosting abilities. Very few have rocked the 'stache as long as he did, and for that we commend him.
8. Jason Lee (My Name is Earl)
Few actors are as dedicated to their character's moustache as Jason Lee is. It's no fake 'stache, and he's even worn it in other roles to make sure it stays thick and manly when it's time to tape episodes of My Name is Earl. Sure, he looks a little ridiculous, but the longer the show is on the air, the more Jason Lee himself will be identified by his moustache. He might never be able to shave it off.
7. Will Ferrell (Anchorman: The Legend of Ron Burgandy)
Yes, in 21st century filmmaking, oftentimes moustaches are worn not just for their representation of pure testosterone, but also for comedic effect. It works especially well when the films are taking place in the 70s or 80s, when moustaches were king. Much like Vince Vaughn's 'stache in Starsky & Hutch, Will Ferrell's moustache in Anchorman just adds to his character's hilarity.
6. Ned Flanders (The Simpsons)
Does Ned Flanders' moustache show he's out of touch? If you've seen any of the episodes of The Simpsons where Flanders takes his shirt off, then you'll realise the moustache is really there an extension of his extreme manliness. He may be a preachy goody-goody, but his 'stache allows him to have that little bit of edge... what's he hiding behind there?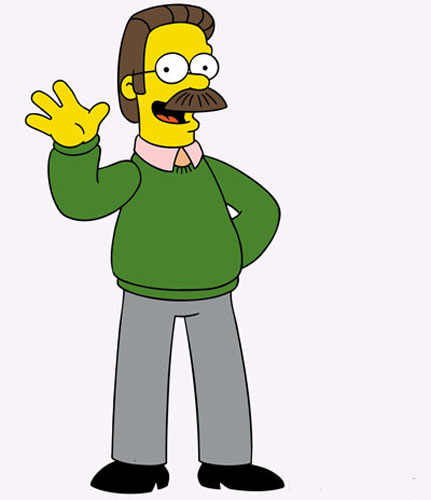 5. Billy Dee Williams (The Empire Strikes Back, Return of the Jedi)
How cool is Billy Dee Williams? If you don't know the answer to that question, then YOU'RE not cool. Seriously, after the first Star Wars, you wouldn't think that anyone could be cooler than Han Solo, but to many, Lando surpassed. There's little doubt the moustache was a big part of that.
4. Groucho Marx
The legendary comedian used to paint on his crazy moustache, but eventually grew one in himself and kept it for most of his life. You know those all-in-one fake glasses, nose, and moustache sets you can buy at joke shops? Yeah, they're based on ol' Groucho. His 'stache is that legendary. Any comedians who use the moustache for their comedy owe it all to Groucho Marx.
3. Daniel Day-Lewis (There Will Be Blood, Gangs of New York)
Every time I see Daniel Day-Lewis with a clean-shaven face, I'm confused. I just don't recognize him, despite his many roles sans-moustache. It seems his most iconic characters have donned the 'stache, and I'm certain this somehow brings him his acting power. Considering he's one of the greatest actors of our time, I think more actors should take note -- moustaches lead to Oscars.
2. Burt Reynolds (Cannonball Run, Smokey and the Bandit, Cop and a Half)
Yes, Cop and a Half! "I'm your worst nightmare, an 8-year-old with a badge." How the hell else are you going to deal with such a nightmarish situation, than with the power of the moustache. Of course, throughout the late 70s and 80s, Burt Reynolds was pulling off the moustache in film roles left and right. His most notable franchises -- Cannonball Run and Smokey and the Bandit -- featured the 'stache prominently. Burt Reynolds is one of the manliest men around, and the fact that he is often identified by his moustache -- there's even a blog named after it -- just solidifies his high spot on this list.
1. Tom Selleck (Magnum P.I.)
The best moustache of all time. Burt Reynolds comes close, but nobody can beat Selleck in Magnum P.I. While Burt Reynolds as an actor is often identified by his moustache, no character is more identified by his 'stache (and hairy masculinity in general) than Tom Selleck's Magnum. When I'm out on the street and I see a man with a thick moustache, my first thought jumps to Magnum. There really has been no better use of facial hair in the history of the world.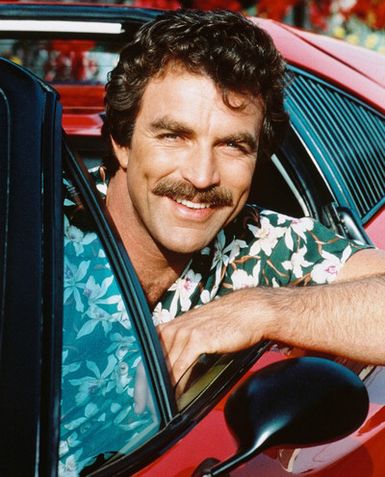 New Additions
2010 - Bradley Whitford (The Good Guys)
Bradley Whitford sported a beautiful 'stache in the short-lived but much-loved (by me) FOX series The Good Guys. Whitford's character, Detective Dan Stark, managed to rock the moustache in modern times, despite the fact it's only fashionably amongst hipsters and hockey players these days -- and he looked like a bad-ass doing it. Congrats, Det. Stark!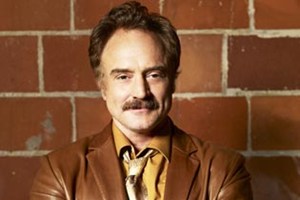 2011 - Nick Offerman (Parks & Recreation)
One of the most awesome characters in television history, Ron Swanson sports his moustache with pride, and the 'stache definitely suits a guy who loves to build things out of wood, considers any kind of grilled meat a sacred thing, and will eat breakfast food for any meal. Swanson is the most reliable character on the most reliable comedy on television. Offerman's brush of doom plays a massive (possibly integral) role in every aspect of the show's quality.
2012 - Ted Levine (Monk)
This year we're adding a name to the list that was suggested in the comments last year. Steve Bluhm, you've got your wish! Ted Levine spent 8 seasons portraying the tough but sympathetic Captain Leland Stottlemeyer, who was Adrian Monk's friend during their time together in the police force and biggest champion with Monk's role switched to police consultant. As this list shows, cops do make for the best moustache vessels. Captain Stottlemeyer's upper lip-warmer was the rare combination of beauty and brawn, and the San Francisco Police Department was the better for it!
2015 - Sam Elliott (The Quick and the Dead, Tombstone, Gettysburg)
The moustache, yes, but also the voice. Sam Elliott has basically defined testosterone in Hollywood for decades, and his deadly 'stache -- while not in every role of his -- has made appearances in so many legendary films, it's hard to pick the best. The Quick and the Dead, Tombstone, The Big Lebowski, Gettysburg, The Desperate Trail, You Know My Name, Thank You for Smoking, and briefly Up in the Air have all featured that killer voice and awesome moustache. He was also great guesting as "Eagleton Ron" across from Nick Offerman on Parks & Recreation​. For those who have been clamouring for years to see Elliott on this list, you were right and we were wrong. Hopefully this Sam Elliott moustache montage we found makes up for it.
Originally posted August 12, 2008.
Tags: Top 10, moustache, Tom Selleck, Burt Reynolds, Daniel-Day Lewis, Billy Dee Williams, Ned Flanders, Borat, Groucho Marx, Movember
Related Posts
Paul Little is the founder and Managing Editor of ShowbizMonkeys.com. When not interviewing his favourite musicians and comedians, he can also be found putting on and promoting music and comedy events with The Purple Room in Winnipeg, or co-producing the live comedy game shows Pants on Fire and The Great Patio Showdown. (@comedygeek)
Original Comments Posted (8)
erin says...
LOL!
Aug 12, 2008 11:36pm
100487707 says...
I think Borat was the greatest! Although a contravercial movie, some moments are very funny. Simpson's neighbour, Ned Fladers is pretty cool too.
Oct 1, 2009 12:04am
krob47 says...
I think Burt Reynolds should have made #1.
Oct 12, 2009 6:27pm
Andy63 says...
Great page - disappointed not to see Charlie Chaplin though - his mustache was so famous that Hitler copied it. Check out my Top 10 Best Noses in Film and Television (and song). None of them have mustaches though.
Dec 3, 2009 7:37pm
Andrew Burns says...
I think because Lando wore a cape it may have bumped him up a couple of spots, but only Billy D could pull of both. Tom Selleck top spot no question. But I do think Sam Elliot deserves an honourable mention.
Nov 9, 2010 9:06am
crimson says...
No Ravishing Rick Rude?
Nov 13, 2010 12:40pm
Mary Meister says...
Jason Lee has a real stache like no other!
Feb 22, 2011 7:54pm
lambdin57 says...
Are you guys kidding me??? SAM ELLIOTT beats all these others hands-down. Take a look at him in "Tombstone", "Conagher" or "You Know My Name" and you'll say "Oh, yeah.....Sam Elliott". Andrew Burns, maybe you haven't seen his moustache in these films!
Apr 12, 2011 1:21pm
Comments Posted ()
Search SBM Archives