Walkey Talk: Memo to the Academy
Filed under: Walkey Talk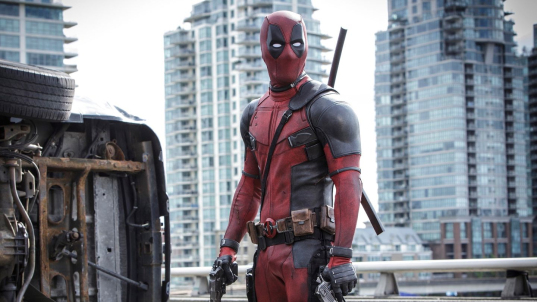 Jimmy Kimmel has been tapped to host this year's Academy Awards on February 26, 2017. La La Land has already positioned itself as the odds-on favourite to win Best Picture before the nominations have been announced. If you were paying attention, you heard a lot of buzz about the following films: Moonlight, Manchester by the Sea, Arrival, Hacksaw Ridge, Sully, Loving, Fences, Lion, Hell or High Water, Jackie, Nocturnal Animals, and Silence. Chances are, the majority of the nominations will be spread out amongst these titles. But there are many other films and roles that are worth noting, but for whatever reason have little support. Here now, is my memo to the Academy.
Ryan Reynolds – Deadpool
If the Academy has the audacity to nominate Johnny Depp for The Pirates of the Caribbean, then why not Ryan Reynolds for Deadpool? Because the film is not an Oscar-type movie? That didn't hurt Mad Max last year. Deadpool is one of the best-reviewed films of the year, rated on Rotten Tomatoes just below Sully and Loving and just ahead of Hacksaw Ridge and Florence Foster Jenkins. Because Reynolds is basically playing himself? Isn't that what Tom Cruise did in Jerry Maguire? If Reynolds ever actually wins an Oscar (he won't), nobody will remember the title of that film. Future generations will think he won for Deadpool, a character that's become his signature role and saved his career from accepting rom-com scripts that Mathew McConaughey now turns down.
Miles Teller & Aaron Eckhart – Bleed for This
An actor I once labelled the poor man's Shia Lebouf, Miles Teller has quietly shaped a nice resumé with interesting choices and consistently strong performances. From The Spectacular Now to Whiplash to Bleed for This, it almost allows me to forgive him for Fantastic Four. Playing real life boxer Vinny Panzienza, Teller's victory is caricature restraint and creating sympathy for a cocky, self-involved Guido. As Panzienza's trainer Kevin Rooney, Aaron Eckhart is virtually unrecognizable in a scenery-chewing role worthy of a Supporting Actor nom.
The movie is too conventional and straightforward to be in the running for Best Picture, but the performances are first rate. Too bad more people didn't see this film, because it's an extraordinary true life story, more worthy of a big screen treatment than sentimental crap like Eddie the Eagle.
Captain Fantastic & Everybody Wants Some!!
My two favourite films of 2016. Richard Linklater's Boyhood follow-up and spiritual sequel to Dazed and Confused, Everybody Wants Some!! is another coming-of-age story, this time about those precious first stages of unsupervised early adulthood. It's a piece of nostalgic poetry, lollygagging through scenes about that phase in life when you're too old for this but too young for that. Like Boyhood, it finds beauty in the moments.
Captain Fantastic is a timely social commentary about parenting and consumerism with Viggo Mortensen as the patriarch raising a family off the grid in the Pacific Northwest. It's a pointed and thought-provoking examination of modern American family values with an interesting take on White Poverty Culture. Mortensen is commanding in the lead, but George McKay, as the eldest son Bodevan, is heartbreaking. Watching him struggle to integrate with the real world and awkwardly socialize with girls is more believable and painful to watch than your typical run-of-the-mill teenage comedy.
The reviews were there, but both films were released in the first half of the year and died at the box office. Then again, that didn't seem to hurt Hell or High Water. Both movies deserve Best Picture nominations, but it is unlikely either will get one. Best chances are Linklater's screenplay and Viggo Mortensen for Best Actor.
Sally Field – Hello, My Name is Doris
Often when actors reach a certain age, they enter the "Grumpy Old Men" stage of their careers, staring in lame comedies poking fun at generational differences with tired gags featuring old people swearing, dressing inappropriately, or using modern technology. If you need proof, check out anything Robert De Niro has starred in lately. It's demeaning and depressing, and unfortunately, totally expected. Hello, My Name Is Doris begins in that direction with a lonely office worker developing a crush on her much younger co-worker. But it becomes much more, with real moments of truth, warmth, and genuine humour anchored mostly by the endearing Fields in a wonderful, comedic performance as the kooky, eccentric Doris.
Swiss Army Man
Can you admire the ambition of a film but not the execution? Absolutely. Does that make it worthy of an Oscar nomination? Probably not. Still, this was a movie that stuck in my head for weeks afterwards. Its best chance for an Oscar nomination is probably for Cinematography and its beautiful camerawork by Larkin Seiple, who coincidentally was also the DP on Bleed for This.
Hugh Grant & Simon Helberg – Florence Foster Jenkins
Meryl Streep is a contender again this year (though not a lock) for her hilarious portrayal of the world's worst singer. Hopefully the Academy does not overlook the fine work of her two co-stars: Hugh Grant, who built a career based on his stammering, self-deprecating charm, departs from that persona with an original performance as Florence's manager/husband who masterminds the whole deception. And Simon Helberg's spot-on reactions and pin point facial expressions are as good as any classic silent film star... and worthy of a Best Supporting Actor nomination. Golden Globe nominations don't guarantee Oscar nominations, but they do bring exposure to names that need them, which will increase their chances.
Sasha Lane – American Honey
This film won the Jury Prize at the Cannes Film Festival in May and features a star-making performance by Sasha Lane, who never seems to be acting throughout this film. Chances are, American Honey has a better shot at the Independent Spirit Awards, for which it racked up six nominations. General consensus in Hollywood: Lane's performance will lead to more roles, and that's reward enough.
Sunny Pawar – Lion
It's no secret the Academy loves nominating little kids. Remember how we all fell in love with Jacob Tremblay last year? This should bode well for 8-year-old Sunny Pawar, who made his acting debut as the younger version of Dev Patel's Saroo during the stronger half of Lion. He ends up stealing the entire film and the hearts of viewers.
Love & Friendship
I'm surprised by this one: a Jane Austen adaption that got rave reviews and was one of the biggest art house hits of the year. Seems like a match made in Academy heaven. Yet, Hollywood has forgotten this summertime release, now overshadowed by La La Land and Manchester by the Sea for most year-end critic awards. I would love to see Kate Beckinsale nominated for her best role in years, but I may have to settle for an Adapted Screenplay nomination.
"The Riddle of the Model"
I sure hope the Academy doesn't forget about Sing Street, the little gem of a film in the vein of The Commitments and That Thing You Do!. It's a sweet little ditty about a bunch of teens in the 80s who band together to make music videos. The Duran Duran-esque "Riddle of the Model" is a more integral part of the story than the type that often gets nominated: songs playing over the end credits intended to sell soundtracks. Without "Riddle of the Model", there is no Sing Street.
Captain America: Civil War, The Jungle Book, Doctor Strange, Finding Dory, Zootopia
These are five of the best-reviewed films of the year; all certified over 90% fresh on Rotton Tomatoes. They are also five of the highest-grossing films of 2016. Chances are, none of these films will get nominated for Best Picture. Of the five, The Jungle Book has the best chance of sneaking in, but will most likely be awarded in a slew of technical categories. Finding Dory and Zootopia will nab consolation nominations in the Best Animated Film category. Though it seems to be rarer and rarer each year, there is still proof, albeit very little, that "popular" and "great" can describe the same film.
Nominations are announced the morning of January 24, 2017. The 89th Academy Awards will be on Sunday, February 26, 2017.
Tags: 89th Academy Awards, Academy Awards, Oscars, Ryan Reynolds, Sasha Lane, Sunny Pawar, Captain Fantastic, Everybody Wants Some!!, Love & Friendship, The Jungle Book
Related Posts
Search SBM Archives