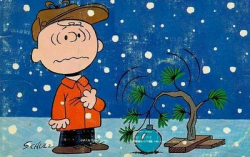 Sarah and Ariana's Top Fives: Holiday Music
Filed under: Reviews, Top Fives
During the holiday season, we know there's one thing none of us can get enough of, and that thing is Christmas music. Since you're stuck listening to it as you stroll through malls from Halloween right through the Boxing Day Super Sales, you may as well be listening to the good stuff when you get home and start wrapping presents. Luckily, a couple of our resident self-proclaimed music experts are here to inform you of the cream of the crop in holiday music so you can skip straight to the good stuff.
As for what the malls play, well, we have no say in that.
Top Five Christmas Songs
by Ariana Heppner
5. Santa Baby, Eartha Kitt
Okay, I don't know what a sable is any better than you do, but this song is sultry and sexy and cute and I can't imagine what's not to like. Except maybe the Britney Spears version. This is one where you've definitely got to stick to the original.
Think of all the fun I've missed / Think of all the fellas that I haven't kissed / Next year I could be just as good / If you'll check off my Christmas list
Buy it on iTunes
4. Have Yourself a Merry Little Christmas, Tori Amos
This little number, originally sung by Judy Garland in Meet Me in St. Louis, can get a little maudlin and mundane and any other number of "m" words. But Tori Amos puts a fresh spin on it, as only Tori Amos can. The piano arrangement is emotional and heartfelt without being overbearing or heavy-handed, and yes, okay, I am a huge Tori Amos fan so perhaps I am biased, but her ethereal voice suits the mood of this song perfectly. I love, love, LOVE the intro.
Here we are as in olden days / Happy golden days of yore
3. Merry Christmas, Happy Holidays, *NSYNC
Don't even pretend this doesn't get stuck in your head every single time you hear it. It's so boppy! And happy! And maybe that's why you hate it. Well, it's my list. Also, the video? Possibly the best ever made. "What is this? A sleigh?? Let's get in and see what happens!"
It's a wonderful feeling / Feel the love in the room / From the floor to the ceiling
Buy it on iTunes
2. Donna and Blitzen, Badly Drawn Boy
This song is near the top of my list because, well, it's awesome, for starters, but why it's awesome is because it brings a smile to your face and a bounce to your step. It's the grooviest Christmas song I've ever heard, and I love the defiance of the lyrics. No, it's not your traditional Christmas carol, but why not branch out a little this Christmas? (P.S. If it sounds familiar, you might have heard it on the About a Boy soundtrack.)
We're gonna see things we'd never believe / I'll make you want me, you'll see / The initial warning is free
Buy it on iTunes
1. Please Come Home for Christmas, Bon Jovi
Aaaaaand, my all-time favourite. I love Bon Jovi at the worst of times (and who doesn't?), but this is definitely one of the best times. Jon's sultry voice brings a sexiness to the song I'm not sure I would say The Eagles' version contains. This is the ultimate cover right here, and no one else could ever do it justice. Plus, I mean, anyone who can rock out a Christmas song, like rock out, deserves some props.
Bells will be ringing the glad, glad news / Oh what a Christmas to have the blues / My baby's gone / I have no friends / To wish me greetings once again
Buy it on iTunes
Honourable Mentions to: Sarah McLachlan's imaginative retelling of Joni Mitchell's "River" (iTunes); the groovier, funkier, a capella "You're a Mean One, Mr. Grinch" by Rockapella (the same guys who do "Where in the World is Carmen Sandiego?") (iTunes); and of course, the one that makes me do silly dances, "I Want a Hippopotamus for Christmas" by a small girl named Gayla Peevey. (iTunes)
Top Five Christmas Albums
by Sarah Miller
5) Christmas Songs, Diana Krall
Truth be told, the fifth spot on my list was a toss-up between Diana Krall and *NSYNC's Home for Christmas, but Diana wins because she is jazzy and wonderful, and I think overall she manages to pull off Christmas with a little less cheese than *NSYNC, no offense to Justin Timberlake (and my partner in crime above, who clearly adores cheese). I really like her version of "Have Yourself a Merry Little Christmas," which is really saying something, because it's one of the most overdone Christmas songs out there (as Ariana mentioned), but she pulls it off beautifully, and I will never, ever figure out how she can sing and play amazing piano and strike such a great balance with her guitar player all at the same time. Magical.
Buy it on iTunes
4) Barenaked for the Holidays, Barenaked Ladies
This is by far the most fun Christmas album you will ever find. Some of the songs sound like someone recorded a family carol sing (if your family is particularly musical and talented), and some of them sound like Napoleon Dynamite jammed them out on his organ. But best of all is their version of "God Rest Ye Merry Gentleman" with Sarah McLachlan.
Buy it on iTunes
3) Ella Wishes You a Swingin' Christmas, Ella Fitzgerald
Most of the songs on this album are now considered Christmas classics, and pretty much any movie that takes place at Christmastime is bound to include at least one of them. If you're looking for someone to sing you into the Christmas spirit, Ella is your gal. There is simply nothing better than Ella Fitzgerald singing "What Are You Doing New Year's Eve?"
Buy it on iTunes
2) Songs for Christmas Volume 5 – Peace, Sufjan Stevens
I had a hard time picking just one among Sufjan's five volumes of Songs for Christmas, but this one wins because of "Get Behind Me, Santa!" and the most beautiful version of "Holy, Holy, Holy" I have ever heard. Really though, any of his Christmas albums are worth buying.
Buy it on iTunes
1) A Charlie Brown Christmas, Vince Guaraldi Trio
If you only buy one Christmas album in your entire life, this should be it. So many songs off of this album have become Christmas classics, and who better to remind us what Christmas is all about than Charlie Brown?
Buy it on iTunes
Tags: Christmas, Music , Top 5 , Top 10
Related Posts
Original Comments Posted (1)
krob47 says...
These are excellent choices for holiday music.
Oct 11, 2009 9:47pm
Comments Posted ()
Search SBM Archives