The Day of Positivity hits Vancouver on Monday, January 5
Posted by: Mark McLeod // January 5, 2015 @ 12:19am
One month before its debut in theaters, Paramount Pictures and Nickelodeon Movies have declared the first Monday of 2015 "The Day of Positivity," to celebrate SpongeBob SquarePants' upcoming film, The SpongeBob Movie: Sponge Out of Water, in theaters on February 6, 2015.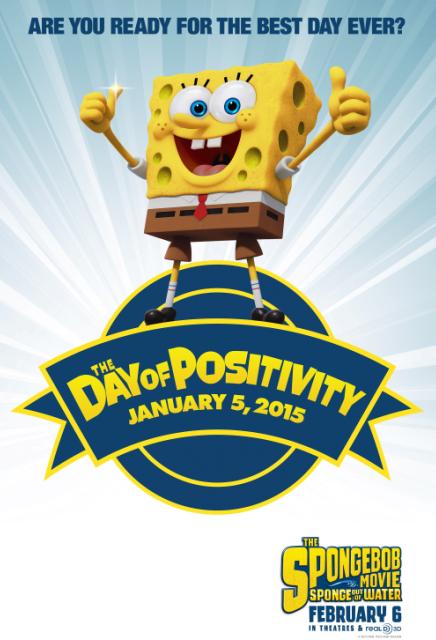 Kicking off on Monday, January 5, "The SpongeBob Day of Positivity" will bring fans together to celebrate SpongeBob's most admired quality -– eternal positivity! The "Day of Positivity" will be filled with major events and first looks at exclusive materials from the new film, all in honor of the world's favorite optimist, SpongeBob SquarePants.
Vancouver area SpongeBob fans should head over to Richmond Martial Arts located at #120-11331 Coppersmith Way in Richmond, BC for an an exclusive event celebrating the positive attributes of fitness, health and well-being. This afternoon of positivity and fitness, will boast martial arts demonstrations for the young and young-at-heart, a live performance by local band The Unified, and an appearance from the recently crowned Ms. & Mr. Vancouver -– Sabrina Dhowre & Walt Yao –-
Date/Time: Monday, January 5, 2014 at 4:00–6:00pm
Location: Richmond Martial Arts, #120-11331, Coppersmith Way, Richmond, B.C.
Tags: SpongeBob, SpongeBob SquarePants, positivity, martial arts, The Unified
Mark McLeod has always loved film. In addition to his roles with ShowbizMonkeys.com, Mark also works on many film promotion projects in Vancouver, BC, through his company, Mark McLeod PR.
Search SBM Archives