Comedian Big Daddy Tazz hosts his 14th annual fundraiser this Saturday in Winnipeg
Filed under: Interviews
Big Daddy Tazz has been performing at comedy clubs and theatres across Canada and beyond for years, making people laugh about the mundane while also opening up about his own struggles with bi-polar disorder. Originally from Saskatchewan, the self-described "Bi-Polar Buddah" moved to the thriving metropolis of Winnipeg, Manitoba to begin his career in show business as a stand-up comic, writer, actor, and voiceover artist. But along the way, he's also used his position as a sought-after comedian to shine light on issues that are important to him, namely children (he regularly works with children's health charities and speaks at schools across the country) and mental health initiatives.
Frankly, you likely won't find many entertainers around giving as much of their time to others as Big Daddy Tazz.
Of course, giving back as much as he has wouldn't quite mean as much if he didn't have the comedy cred to bring people out to support these causes. Luckily, Big Daddy Tazz does one thing really well, and that's make people laugh. From his countless gigs in clubs and at corporate events across the country, to his appearances at comedy festivals far and wide, to his numerous radio and TV appearances (including his own Comedy Now special).
For more than a decade, Tazz has hosted an annual fundraiser at Winnipeg's historic Pantages Playhouse Theatre, often taking the form of a variety show. This Saturday night (January 24), in its 14th incarnation, A Night with Big Daddy Tazz & Friends brings together local musicans and stand-up comics from Winnipeg and beyond in support of the Children's Rehabilitation Foundation. (Tickets are still available, and can be bought in advance for $30 by contacting Christine at 204-475-5073 or Adell at 204-477-4587.)
We got the chance to speak with Tazz on the eve of his big event, and he spoke about his desire to support the community, his affection for Winnipeg (and its comics), and of course what audiences can expect from A Night with Big Daddy Tazz & Friends!
ShowbizMonkeys.com: This is the 14th annual Pantages charity show you've put on, and you also work with many charities throughout the year. Why do these issues matter to you, and why is it important that you put in the time towards them?
Big Daddy Tazz: I have always wanted to make sure that I gave back to the community. When I was younger, dreaming of being a comedian and an actor, part of that was being able to help others. I always thought it was cool when a famous person would be able to make a difference by just showing up or championing a cause. I feel it is so important to support the causes I do, to give them a voice -- especially for those who cannot or are scared to speak up and out, like children or those who are still struggling in the darkness of stigma. My voice can be theirs and I can speak loud and proud, and yell if they need me too. I have always thought that if I don't support my community, how can I expect them to support me?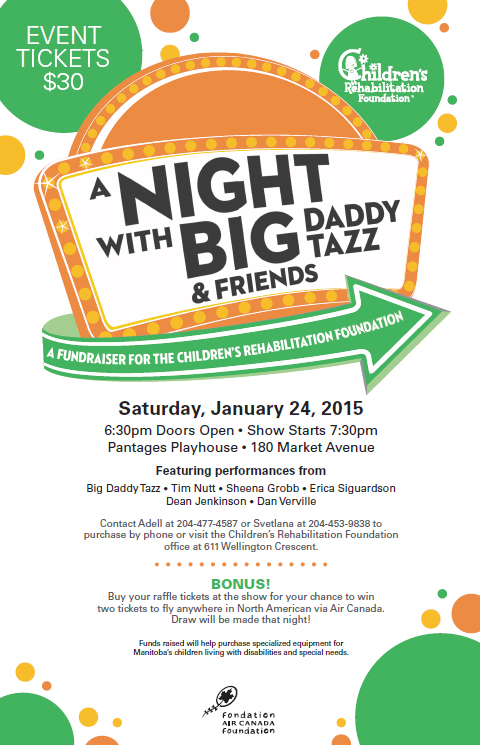 SBM: You work across Canada and beyond regularly, yet always make time to do regular events in Manitoba. What is it about that province, and Winnipeg in particular, that not only keeps you living here, but actively working there?
Tazz: I am a transplant from Saskatoon, Saskatchewan, but I moved there very early in my career -- over 20 years ago -- and Winnipeg is where I honed my craft. I fell in love here, with the people, the city, and the arts scene. Both my boys were born here, and this is where I feel my roots belong. I love when people stop me on the street and say hey. It makes me feel... well, like an important part of the fibre of the city. I love it when they say, "I love your comedy!" but my heart soars when they say, "Thank you for making a difference." That is my true calling. As long as they keep calling, I'll keep performing!
SBM: Can you tell me a bit about the other performers on this fundraiser show, and why you chose them to be a part of the event?
Tazz: I chose the other acts based simply on their talent and my respect for them as performers:
J.D. Renaud has made me laugh from the moment I saw him as a raw first timer. His wit is amazing. [Ed. note: he's also written for this site.]
Tim Nutt has been a friend for a long time, and makes me howl.
Erica Sigurdson and I go way back -- her take on life is hilarious.
Dean Jenkinson is one of my best friends and is well known in Winnipeg for his work with the Comedy Festival as well as his work with CBC.
Dan Verville is a regular host at Rumor's Comedy Club. He has been to many charity events with me, and has them rolling in the aisles!
Speery Squared is a brother duo who I have known since they were wee little. Adam has grown into an operatic protégée, and Eric is an amazing musical talent. Eric is an inspiration to me -- he lost some of his fingers to frostbite last year, and had to teach himself a new way to create and play guitar.
That just leaves Sheena Grobb. I can not say enough amazing things about her and her musical journey. She is the embodiment of joy, and in her own words, "wants to bring out the world's love for itself." (I am paraphrasing all our conversations in to one sentence!)
SBM: Having travelled extensively, how does the local Winnipeg scene -- and you have some young local comics on your gala show -- compare to other cities, and to where things were locally 5 or 10 years ago?
Tazz: I can only speak to the scene here (in Winnipeg). It has exploded with talent and venues. When I first came to the city, there were two clubs: The Comedy Oasis and Rumor's. That was it. Now you have open mic venues and places to hone your act. With more places to practice you get more stage time, and with more stage time you get more consistent. And that's all successful comedy is, the consistency at which you connect with your audiences.
SBM: The Pantages Playhouse Theatre is home to the Winnipeg Comedy Festival galas and many other stand-up shows throughout the year. What makes it such a great theatre for comedy?
Tazz: The first time I stepped on the stage at the Pantages, I had a rush of emotion. With tears in my eyes, I stood there being a part of history. Throughout its existence, the Pantages has hosted many of the greatest acts in history, including most of the comedy giants -- Abbott and Costello, Charlie Chaplin, The Marx Brothers, and Milton Berle, just to name a few. From Vaudeville to present day, the greats have creaked those floors, dozed in the dressing rooms, and felt the adulation of the crowd. I felt blessed to be a part of that history, to be included in that roster, to feel like I had made it to my dream.
SBM: What's up next for you after the show on the 24th?
Tazz: What's next? Well, some the acts and I are heading to CFB Shilo on January 25 to entertain the troops, and I am working with Sheena Grobb on touring through schools. Personally, I plan on bringing laughter to whomever wants to giggle with me... be it thousands of people at an outdoor concert or one person by accident standing in line at Safeway listening to me goof around with my boys!
You can find more about Big Daddy Tazz at bigdaddytazz.com or by following him on Twitter (@BigDaddyTazzWPG). Watch an online exclusive of Tazz from last year's Winnipeg Comedy Festival below.
Tags: Big Daddy Tazz, comedy, stand-up, music, Winnipeg, Canada, Pantages Playhouse, charity, Sheena Grobb
Related Posts
CanadaMovies.net launched in September of 2001 as a movie information hub. Since re-branding as ShowbizMonkeys.com in 2007, coverage expanded beyond film to music, comedy, and television.
Comments Posted ()
Search SBM Archives