Our top 10 films of 2002
ShowbizMonkeys.com staff picks the year's best releases
Filed under: SBM Awards
ShowbizMonkeys.com staff has once again picked the year's best releases. Agree? Disagree? Be sure to leave a comment and let us know.
1. The Lord of the Rings: The Two Towers
The first movie in The Lord of the Rings trilogy topped our list last year, so it is no real surprise that the second film, The Two Towers, came in at #1 for 2002. The film did even better at the box office on opening weekend than The Fellowship of the Ring did last year, and if it continues this pace, could surpass last year's Harry Potter and the Philosopher's Stone as the second-largest box office money-getter of all time.
"The Two Towers was much darker than its predecessor, but by throwing in humour and mystique to balance out the long and brutal battle scenes, the film was both visually powerful and continued a great story." (Paul Little, Webmaster)
2. Catch Me If You Can
When Leonardo DiCaprio wanted to be involved in a film version of one of his favourite books (the real-life story of Frank Abagnale, Jr.), he probably didn't envision a movie with so much star power. Catch Me If You Can had enough Academy Award winners to generate plenty of hype, including Tom Hanks, director Steven Spielberg, and composer John Williams. But with incredible critical response, and plenty of moviegoer interest, Catch Me If You Can has also become one of the most fun and exciting films in recent memory.
"I read the book, and although the movie changed some facts, I believe it held true to the spirit and story of Frank Abignale, Jr." (Brad Hutchinson, Website Division)
3. Far From Heaven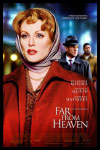 Visually, Far From Heaven looks like it was pulled right from the 1950's -- excessively vivid colour, melodramatic musical score, and the Leave it to Beaver-style dialogue. However, the story goes well beyond those Douglas Sirk film characteristics of the 50's, presenting issues such as racism and homosexuality in a time where those issues were not talked about on film or anywhere else. Both Julianne Moore and Dennis Quaid received Golden Globe nominations for their exceptional performances, and the story itself also earned director/writer Todd Haynes a Golden Globe nom for the screenplay.
"[Haynes] is allowing the issues that have always been relevant throughout time to finally come to the surface in a period when it was not socially acceptable to do so on the silver screen." (J.S. Lee, Reviewer)
4. Death to Smoochy
On paper, a movie starring comedian Robin Williams and critical favourite Ed Norton, and directed by Danny DeVito, certainly sounds like an interesting concept. On screen, Death to Smoochy was everything that could be asked for, with Robin Williams giving us his first taste of a psychopath in 2002 (following it with "bad guys" in Insomnia and One Hour Photo). The story, though funny and absurd, took a dark look behind the scenes of a children's television show, and made it out to be a mob-like atmosphere.
"An outrageous and hilarious look into the seedy underworld of children's TV. Not a movie for everyone, but the dark humour in this one just rolled on and on." (Mary Meister, Edmonton Promotions Rep.)
5. Spider-Man
The biggest movie of the year was without a doubt the much-anticipated Spider-Man. The film grossed $404 million in 2002, including over $100 million in its opening weekend, setting a new record in the process. The film had everything one could ask for in a superhero film. There was a menacing villian, a beautiful damsel in distress, and a down-to-earth, everyman hero -- a characteristic superheroes like Superman with his out-of-this-world powers, and Batman with his high-priced gadgets, have always lacked. Obviously audiences could relate to Spidey with those box office numbers, but the critics did as well.
"A perfect balance between the often-hokey, yet undeniably charming nature of the Spider-Man cartoon and amazing special effects that situate a computer-generated Spider-Man within a real, non-animated world, forms a remarkable film that any filmgoer can enjoy." (Jeremy Maron, Reviewer)
6. Bowling for Columbine
Michael Moore, the award-winning director of documentaries such as Roger & Me, returns with a film spotlighting the bone-chilling realities of the United States firearms situation. Using humour and irony to point out how terrible the gun situation in the U.S. is, Moore realizes halfway through Bowling for Columbine that it isn't the amount of guns in America that is the problem, but what Americans do with those guns (that is, kill other Americans). Despite being a documentary and on the surface taking an anti-American stance, it had a surprisingly decent response from audiences and critics.
"Despite his penchant for skewing the facts to tell his story, Michael Moore still makes an honest and realistic documentary that is both touching and horrific, even through the laughter." (Paul Little, Webmaster)
7. Brotherhood of the Wolf
Brotherhood of the Wolf had a wide release on January 25, 2002 in North America, so though it was released in 2001 in other parts of the world, it is still considered a film of 2002. And what a spectacular film it was. Delving into the late 16th-century myth of the beast in Gevaudan, France, the film follows the two leads (a Frenchman and his Iroquois Indian blood brother) in their attempt to uncover the origin of the mysterious beast. That odd pairing alone made for an interesting blend, while Matrix-style shots and beautiful settings just added to the uniqueness of this picture.
"I loved the no holds barred action sequences and the fluid motion of [Mark] Dacascos's martial arts." (Dean Kish, Reviewer)
8. The Bourne Identity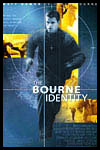 One of the bigger surprise hits of 2002 was the Matt Damon spy thriller, The Bourne Identity, based on the successful novel of the same name. Following Jason Bourne (Damon) through the film knowing who he is -- despite him not ever knowing who he is or why he possesses money, passports, and fighting skills -- is a real treat. One could also believe Matt Damon as Jason Bourne, which is unlike some of the unrealistic Hollywood action heroes in recent memory. Many critics enjoyed the film, but so did audiences, as it pulled in $121 million at the box office.
"We have seen this kind of spy stuff before, but it is Matt Damon's performance and the well-crafted structuring of the film by director Doug Liman that make this a movie to get excited about." (Dean Kish, Reviewer)
9. Changing Lanes
Matt Damon's best bud Ben Affleck makes his way to this list, along with co-star Samuel L. Jackson, for their film Changing Lanes. Affleck played a character quite unlike his usual easy-going cute guy characters, as he took on the roll of a ruthless lawyer. Samuel L. Jackson was out of his usual cool-guy, heroic realm, here playing a down-on-his-luck recovering alcoholic. The way that these two lives intertwined by chance and ended up making a huge impact on one another was remarkable, but its disheartening realism is what truly made it a remarkable film.
"A really good 'thinking' movie... it makes you continually think about both sides of every conflict." (Brad Hutchinson, Website Division)
10. The Good Girl
Jennifer Aniston, known for her role as Rachel on TV's Friends, played a troubled 30-year-old stuck in a miserable marriage in The Good Girl. This somewhat surprising performance by Aniston made the film enjoyable and relatable, and earned critics' respect in the process. The story, written by Mike White and directed by Miguel Arteta, showcased real, flawed characters, and did a splendid job of balancing the dark and dreary subject matter with the humours of life. In the end, it seemed like real life was unfolding on screen, a good sign of a great film.
"The Good Girl may be a movie with a rather dark and depressed mood, but with its attention to life's bitter-sweet (and funny) moments, never risks lulling the viewer to such a lowly depth..." (J.S. Lee, Reviewer)
Other Favourites
My Big Fat Greek Wedding
Spirited Away
Panic Room
The Emperor's Club
Road to Perdition
Divine Secrets of the Ya-Ya Sisterhood
Minority Report
Dogtown and Z-Boys
8 Mile
I Spy
Signs
Star Trek: Nemesis
Scooby-Doo
Gangs of New York
Die Another Day
Ararat
Mr. Deeds
Tags: top 10, awards, The Lord of the Rings: The Two Towers, Catch Me If You Can, Far From Heaven, Spider-Man, Bowling for Columbine, Brotherhood of the Wolf, Death to Smoochy, The Bourne Identity
Related Posts
CanadaMovies.net launched in September of 2001 as a movie information hub. Since re-branding as ShowbizMonkeys.com in 2007, coverage expanded beyond film to music, comedy, and television.
Search SBM Archives