Walkey Talk: David Fincher - A Retrospective
Filed under: Walkey Talk
The best director race this year has become much closer now that Tom Hooper from The King's Speech scooped up the Director's Guild Award – a common indicator of the Best Directing Oscar winner. There are some pundits who still believe The Social Network's David Fincher is the man to beat come February 27th. After picking up a BAFTA (British Oscar) last weekend, Fincher is listed as the favourite by Entertainment Weekly, who also name The King's Speech as the Picture favourite.
I've got to hand it to Harvey Weinstein, producer of The King's Speech. Love him or hate him, the guy's got incredible influence and impeccable timing. Chalk this up as another notch in the big guy's Oscar belt.
While the race for Best Picture seems over now that The King's Speech is ploughing through with incredible momentum, the race for the Directing Oscar is still a close one. I admire Hooper's minimalist technique with The King's Speech, but my heart lies with Fincher. His modern day morality play is epic storytelling at its best. In an era where 'epic' means filled with violence and action, The Social Network is a throwback to a time when meticulously crafted, densely filled narrative structures were once considered epic.
One of the reasons my heart lies with David Fincher is that I basically grew up watching his career unfold before me. I've been waiting for Fincher to win an Oscar since I was 16 and snuck into Se7en and thought it was the one of the coolest movies I'd seen. Sometimes I wonder how my life would have been different if I had seen the movie that was on the ticket that I purchased, How to Make an American Quilt. Indeed I did have a big crush on Winona Ryder at the time, but I was not going to let the opportunity pass me by so I whipped across the hall when the usher wasn't looking.
Here now is a retrospective look at some career highlights of David Fincher's career. What I thought of the films then, and what I think of them now.
David Fincher made his bones in the world of music videos and directed such now iconic videos from the 80s and 90s as Aerosmith's Janie's Got a Gun, Madonna's Express Yourself and Vogue, and The Rolling Stones' Love is Strong. Parlaying his talent for stylish yet understated flare into feature films Fincher followed in the footsteps of other directors who started out in the short form. However, unlike some feature filmmakers who began their careers on MTV, Fincher's films were fully realized narratives and not just 2 hour music videos (I'm talking to you Michael Bay and McG).
ALIEN 3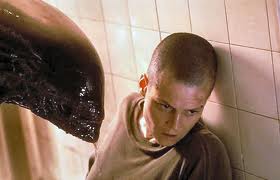 Fincher made his feature film debut with the third and least popular film of the series.
Release Date: May 22, 1992 Domestic Gross: $55M
What I thought then: never saw it during its original theatrical release.
What I think now: Still haven't seen it. But apparently Fincher disputed with 20th Century Fox over script and budget changes and was not happy with the theatrical version.
SE7EN
Fincher's follow up was his first pairing with Brad Pitt as he and Morgan Freeman played detectives tracking down a serial killer who bases his killings on the seven deadly sins.
Release Date: September 22, 1995 Domestic Gross: $100M
What I thought then: I was 16 when I saw this movie for the first time. I thought it was the coolest movie I'd seen since Pulp Fiction. I loved everything about it. The gritty style – a 1940s film noir mixed with 1990s nihilism. Incredibly disturbing at the time. Loved the credit sequence.
What I think now: Still love the style, but the film's got more clichés than I remember. Still a great thriller, but lacks the intellectual maturity that shows up in his later films.
THE GAME
A San Francisco businessman (played by Michael Douglas) receives an unusual gift from his younger brother (Sean Penn), and becomes the main player of a role-playing game that takes over his life.
Release Date: September 12, 1997 Domestic Gross: $48M
What I thought then: Another stylish and inventive thriller. I was on the edge of my seat from start to finish. I loved that I had no idea where it was going and that I had to keep watching to find out what the 'game' was all about.
What I think now: Well crafted and well acted (Douglas is superb) but once you know the ending it doesn't reward multiple viewings. Seems more like an exercise in technique than a fully realized film. It left me kind of cold at the end.
FIGHT CLUB
A screen adaptation of Chuck Palahniuk's novel of the same name about an insomniac office worker who opens up a club devoted exclusively to bare knuckle fighting for men. Second collaboration with Brad Pitt, this one also stars Edward Norton and Helena Bonham Carter. Initial praise was soft, but the film has earned a huge cult following since its release.
Release Date: October 15, 1999 Domestic Gross: $37M
What I thought then: After Se7en, I was incredibly excited to see this one, and it starts out so good with impressive visuals, fascinating ideas, and a nasty sense of humour... But amounts to a senseless conclusion that I felt was a copout.
What I think now: I admire the ambition of the film but still feel it bites off more than it can chew. There are lots of big ideas here, but by the end I don't think it has much to say. Needless to say it was Fincher's most ambitious film to date and a career turning point from a genre director to a mature filmmaker. And Brad Pitt's abs have never looked better!
PANIC ROOM
The story follows a single mother (Jodie Foster) and her daughter (Kristen Stewart) as they hide in a safe room of their new house, away from criminals (Forest Whitaker, Dwight Yoakam and Jared Leto) bent on finding a missing fortune.
Release Date: March 29, 2002 Domestic Gross: $96M
What I thought then: Loved it. Foster was terrific. The villains could have been better. But I loved looking at it, loved the claustrophobia, and loved that opening credit sequence!
What I think now: An entertaining thriller, but on Fincher's resume, a step back in terms of ambition. His most mainstream picture to date. But hey, that's Bella!
ZODIAC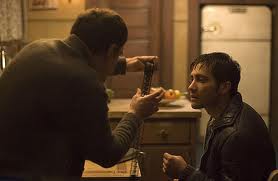 An adaptation of Robert Graysmith's books about the hunt for the Zodiac Killer that starred Jake Gyllenhaal, Mark Ruffalo, and Robert Downey, Jr. Originally set to be released in the fall of 2006, it was pushed back after Fincher refused to cut 20 minutes off the film, and hinted at some truth to the rumors of Fincher being an obsessive compulsive.
Release Date: March 2, 2007 Domestic Gross: $33M
What I thought then: A serial killer movie that's nearly 3 hours, wall to wall talking, with an indecisive ending? Fincher's first masterpiece. Riveting suspense, incredibly well crafted, epic story telling. A movie not about the killer, but about the investigation – genius! Fincher's most grown up piece to date. Comparisons to All The President's Men were a given.
What I think now: Realized it's less about the Zodiac killer and more about one man's obsession into this case and how it consumes his life. Less All The President's Men and more JFK. Creating suspense out of shear dialogue is a precursor to The Social Network.
THE CURIOUS CASE OF BENJAMIN BUTTON
An adaption of F. Scott Fitzgerald's short story about a man who ages backwards. The film was Fincher's third with Brad Pitt. At $150 million, it was Fincher's biggest budget, partly due to the CGI effects used to reverse the aging in Brad Pitt's character. The film received 13 Academy Award nominations including Fincher's first for Best Director. He lost to Danny Boyle, whose Slumdog Millionaire won Best Picture that year.
Release Date: December 25, 2008 Domestic Gross: $128M
What I thought then: Solidified Fincher's reputation as a real craftsman. Meticulously and deliberately the story unfolds like a novel. Themes of life and death were interesting but not as moving as I had expected.
What I think now: Classical filmmaking at its best. Shows Fincher's growth from a flashy wunderkind to master storyteller.
While looking back on these films, it's not hard to see the growth of an artist that culminates with his best and most important piece of work with The Social Network. Next up is an American adaption of Stieg Larsson's The Girl With The Dragon Tatoo, which should continue Fincher's trend of combining artistic ambition with commercial accessibility. Being the mainstream art form that film is, just proves that David Fincher is one of its modern day masters.
Tags: David Fincher, Brad Pitt, The Social Network, The King's Speech, Oscars, Academy Awards, Benjamin Button, Zodiac, Se7en, Walkey Talk
Related Posts
Search SBM Archives