Oscar Coverage: Mike Walkey's 2011 Academy Awards Round-Up
Filed under: Walkey Talk
Where was Ricky Gervais when we needed him?! Shame on you Hollywood for being too sensitive and ostracizing the acid-tongued Brit comic after the Golden Globes. At least he told actual jokes!
What I witnessed Sunday evening had to be the most awkwardly boring Oscar telecast I have ever watched. Even the crowd knew it, too, when poor old Billy Crystal got dragged out for a tribute to Bob Hope, and they gave him a standing ovation, implying, "Please Billy, finish the show! Please!"
Poor James and Anne. I was so excited for them. The TV spots on ABC hyping up the broadcast were so goofy and fun. What the hell happened? Be it nerves, or inexperience, or just bad writing, this year's Oscar telecast was a huge turkey with two lost hosts failing miserably to engage the crowd. Not even the "Whoos!" from Hathaway every time she introduced someone could get a rise out of the audience's slumber.
One clunker of a joke after another: "Weird thing is, I just got a text from Charlie Sheen." As Franco appeared on stage in drag.
Weird thing is, James, I heard that joke fifteen years ago! And Whoopi nailed it during the 1995 telecast: "It was a big year for women. Sharon Stone played a hooker, Elisabeth Shue played a hooker, Mira Sorvino played a hooker. How many times did Charlie Sheen get to vote? Come on!"
Now that's a zinger! Seriously, who was writing these stale jokes this year, Jay Leno? I'm surprised there were no jabs at OJ Simpson or Michael Jackson. The funniest thing I saw all night were the Oscar-themed ads for Modern Family.
I know the host of the Academy Awards is probably the most thankless job in Hollywood. When it's done well, it looks easy and when it's done poorly, everybody harps on you. But for next year, if you're wondering how to make the show better, I have but three simple words: Neil Patrick Harris.
People tend to have a love 'em or hate 'em attitude with award shows, but the Oscars are a different breed. A film buff like me loves them. I'm one of the few who actually cares about who wins. But for an average stargazer, the Academy Awards are arguably the worst of the award show bunch. The reason is simple: the majority of awards are for technical categories (art direction, cinematography, costume design, etc.) therefore the majority of winners who we see presented with Oscars are people who work behind the camera -- absolute strangers to the general public.
How does the Academy compensate for this? By booking a slew of stars to act as host and presenters. But the talent of the host and the witty banter of the presenters can only go so far. What truly makes an exceptional Oscar telecast are the moments. Memorable, spontaneous, unscripted moments that make for great water cooler anecdotes for the following weeks.
I did my best to report some of these aforementioned moments, even though this year was very light on them. Here is the play-by-play of my marathon Oscar night -- party of one!
Diary of an Oscar Party
0h01min – Show opens with a montage of the hosts superimposed into scenes from Oscar-nominated films. Been there, done that... only this time it's not that funny, save for an Alec Baldwin cameo.
0h11min – Best line of the opening monologue comes from James Franco's grandmother: "I just saw Marky Mark!"
0h22min – Kirk Douglas takes the stage to present the award for Best Supporting Actress. At 96 years old, Douglas provides the night with its most courageous or most awkward moment, depending on your view. It was great to see Spartacus, but boy was there a lot of uncomfortable silence during his long, drawn-out ramble. "You know..."
At least he looked like he was having fun!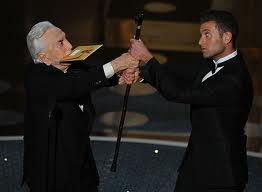 0h28min – Melissa Leo picks up Best Supporting Actress and exclaims: "When I watched Kate (Winslet) two years ago, it looked so f****ng easy!"
0h45min - The Social Network and The King's Speech snag the writing awards, tying Inception one-all for the early lead.
0h57min – Finally some genuine laughs as the upcoming Arthur co-stars Russell Brand and Helen Mirren hand out Best Foreign Language Film and claim Colin Firth's king was not as realistic as the Dame's Queen. Burning Question: Why do non-Americans always present the Foreign Film award?
1h04min – Christian Bale receives Best Supporting Actor from Reese Witherspoon, providing a brief American Psycho reunion of sorts. Fighter: 2; King / Inception / Social: 1.
Ms. Witherspoon wins my vote for the best dressed of the night. One part Grace Kelly, one part southern belle. All parts gorgeous.
1h15min – Nine Inch Nailz frontman Trent Reznor picks up his first Oscar for composing the score to The Social Network.
1h18min – While introducing Mathew McConaughey and Scarlett Johansson, James Franco uses a Six Degrees of Kevin Bacon reference. Boy, I wasn't kidding about Jay Leno!
1h22min – Inception picks up two sound awards, and takes the lead with three overall.
1h26min – This year's "Hot Babe Who Hands Out The Scientific Awards to a Bunch of Dudes Who are Too Dull to be on the Regular Show" is... Marissa Tomei!
1h30min – Rick Baker wins yet another makeup award for The Wolfman. Presenting the award, Cate Blanchette remarks, "Gross!" referring to an image from the film, and not to her toilet seat cover of a dress.
1h34min – Time for a pee break. Here come the best song performances.
1h48min – My favourite bit of the night: The music video parody, "He Doesn't Own a Shirt".
1h53min – Political moment of the evening: Upon winning for Best Documentary, The Inside Job's co-director Charles Ferguson proclaims, "Forgive me. I must start by pointing out that three years after a horrific financial crisis caused by massive fraud, not a single financial executive has gone to jail."
2h00min – Best surprise of the night: Billy Crystal makes a welcome return to a standing ovation. I can actually hear people laughing now!
2h05min – Inception picks up Visual Effects and brings its final tally to 4. The Social Network picks up its third Oscar, for Film Editing –- a mild surprise. I was expecting The King's Speech to win this, as this award often goes to the Best Picture. Could The Social Network be gaining some momentum?
2h15min – More song performances. Time to get something to eat! Burning Question: Did Florence Welch, who performed "If I Rise" from 127 Hours, intend to match the movie poster with her dress?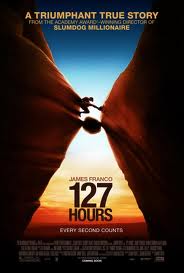 2h17min – Randy Newman picks up Best Song for Toy Story 3's "We Belong Together" and pokes fun, "I've been on this show so many times and I've slowed it down almost every time." How does he know I go to the bathroom during his performance? Now I feel kind of bad.
2h25min – Finally, the audience does away with the incredibly tacky rising and falling of applause during the memorandum montage of people who have passed away throughout the year. Thank God. It's about time.
2h34min – Tom Hooper picks up Best Director, shattering my dreams of a The Social Network upset. Burning Question: Is it me or does Tom Hooper look like a young James Cameron?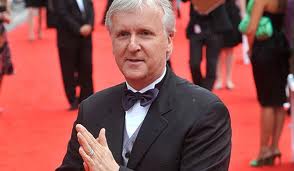 2h45 to 2h57min – Colin Firth and Natalie Portman pick up the lead acting awards. Burning Question: Why can't anyone come up with a Javier Bardem joke that doesn't refer to his haircut in No Country For Old Men? The movie was three years ago. Give it a rest!
Burning Question Part 2: Who's graduation cap did Natalie Portman steal her earrings from?
3h03min - Steven Spielberg's speech for Best Picture was my favourite of the night. "Well in a moment, one of these ten movies will join a list that includes On the Waterfront, Midnight Cowboy, The Godfather, and The Deer Hunter. The other nine will join a list that includes The Grapes of Wrath, Citizen Kane, The Graduate, and Raging Bull. Either way, congratulations. You're in very good company."
I love that introduction. Because it sums up exactly what I believe: It really doesn't matter who wins or loses. Good movies will be made. If you're not the best today, don't fret. You may be someday. Because films are forever.
3h06min – The King's Speech is proclaimed The Best Picture of 2010.
Final Score: The King's Speech – 4, Inception – 4, The Social Network – 3, The Fighter, Toy Story and Alice in Wonderland - 2
Time to go to bed. No after party for me. Got to get up early.
See you next year, and say 'hi' to Wolfgang Puck for me!
Tags: The King's Speech, The Social Network, Inception, The Fighter, Oscars, Academy Awards, Colin Firth, Natalie Portman, awards shows
Related Posts
Search SBM Archives