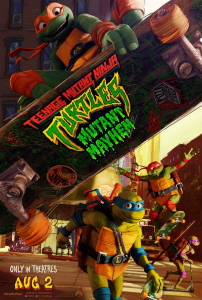 Review: Teenage Mutant Ninja Turtles: Mutant Mayhem





Filed under: Reviews
On a Sunday in 1990, I stood in an empty mall (stores where I lived weren't open on Sunday back then) waiting in line for the original Teenage Mutant Ninja Turtles film with my little brother. At 16, I was a fan of Laird and Eastman's black-and-white indie comic. I would spend my time after school rolling up mutants in the "Teenage Mutant Ninja Turtle & Other Strangeness" role-playing game from Palladium, an homage to Frank Miller and Kung Fu cinema. My brother, several years my junior, was a fan of the 1987 cartoon, its sugary cereal, and zipped around on a TMNT-themed skateboard. He was pure cowabunga turtle power. That first film successfully merged the dark themes of the original run of the Turtles comic with the exuberant energy of the cartoon. It bridged the worlds so there was something that both my brother and I could love.
Thirty-three years later, I stood in a posh mall lining up to pick up a press pass with my friend Andrew, also several years my junior, to watch the film Teenage Mutant Ninja Turtles: Mutant Mayhem, written and produced by Seth Rogan and Evan Goldberg along with Dan Hernandez and Jeff Rowe, who also directed with co-director Kyler Spears. Long story short, it also bridged the worlds so there was something for both myself and my friend Andrew.
It feels like this summer is the summer of the toy movie. Barbie is still dominating the box office with a strong story that defies expectations and creates a compelling feminist narrative of inclusion. Teenage Mutant Ninja Turtles: Mutant Mayhem reinvents the Turtles for a new generation, creating a story driven by the universal themes of loneliness and othering that every teen feels in some capacity. While this may seem like a heavy theme (and at moments it is), there is a lightness and a brightness that only the Turtles can bring to the story.
The key here being these are teenage mutant ninja turtles; they are kids, and that energy flows through the characterizations. Leonardo (Nicolas Cantu), Raphael (Brady Noon), Donatello (Micah Abbey), and Michelangelo (Shamon Brown Jr.) bring energy and earnestness to the characters that is endearing and immediately identifiable to any kid who was considered a little strange or outside the "norm" struggling to feel accepted (and the overriding desire to find that acceptance). It was something they carried to the film in a powerful way.
It should be said, there are changes. The original is reimagined, moving it away from the Miller/Daredevil homage of the original Laird and Eastman comic into something less narratively dense and byzantine in nature. Additionally, there is an ongoing battle in the culture war online regarding the portrayal of April O'Neil, with the usual suspects calling it a travesty. I'll just say this now, it's clear these are either people with ulterior motives or are speaking from a place of ignorance regarding the film. Yes, there are changes, like there have been changes in literally every adaptation of the Turtles (which at this point is over 13 film and television adaptations), but these changes only serve the story and honour the core beliefs of the original. When you have a series of stories that has had the Turtles travel in time, team up with a Samurai rabbit, and work with both Superman and Batman, there is room for every reimagining possible, and many of the complaints are in bad faith.
The performances by the rest of the cast were also amazing, setting up story beats that will hopefully be paid off with sequels down the road. Additional films and a television series have already been green-lit, so here's looking forward to more adventures. Three performances must also be called out for their superb contributions: Ayo Edebiri's April O'Neil, Jackie Chan's Splinter, and Ice Cube's Superfly. April is the bridge for the audience and the turtles connecting the world we know, and Edebiri brings a kindness but also very real "New York" energy to the character. This feels like a kid who is tough because they must be, but they are kind at their core. Chan's Splinter, meanwhile, feels like a loving if misguided father figure who simply wants to protect his children at all costs. There are moments where there is a feeling of genuine love in his voice performance that is outstanding. Lastly, there's Ice Cube's Superfly, another mutant connected to the turtles. Often in kid's cartoons, the villain is a monster who is arch in their motivations, but Superfly is sympathetic while villainous and serves as an interesting counterpoint to Chan's Splinter.
Lastly, the artistic elements of music and visuals are beyond compare. Trent Reznor and Atticus Ross once again acquit themselves with the most impressive skill. Their continued collaboration in scoring and creating soundtracks for films is possibly the greatest musical achievement of either of their careers. The song choices blended old-school rap, hip-hop, and punk music with original-scored material that carries emotion, power, and relatability. The music serves the narrative and supports the visuals, something that both have mastered.
Meanwhile, the animation was done by Montreal and Paris-based Mikros Animation, as well as Cinesite in Vancouver. Both have long and storied IMDb entries including projects like Asterix and Obelix (Mikros) and The Witcher (Cinesite). Together, they created something using visuals that felt directly drawn from the page of the classic comic with the small eye and exaggerated proportions of the characters you find in Laird and Eastman's book, but combined it with a sketchbook aesthetic and a painterly application of colour. As more animation houses explore the medium, I feel between the Spider-Verse films and Teenage Mutant Ninja Turtles: Mutant Mayhem, we have an alternative to the Disney and Pixar Studios' aesthetics. This is not a judgment, but it's a wonderful time where we can see people exploring different techniques and the return of the look of animation that started on a page, not on a computer screen.
At the end of the day, I left the cinema feeling the same feeling I did in 1990. I didn't expect to be so full of joy, but I was, and there was only one way to describe it: Turtle Power!
Tags: Teenage Mutant Ninja Turtles: Mutant Mayhem, Paramount, Kevin Eastman, Peter Laird, Seth Rogan, Jackie Chan, Ice Cube, Ayo Edebiri, Nicolas Cantu, Brady Noon
Related Posts
Search SBM Archives