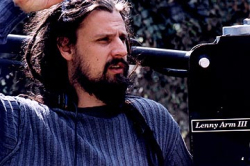 Interview: Musician Rob Zombie, director of the new horror film House of 1000 Corpses
Filed under: Interviews
Rob Zombie is without a doubt one of the biggest names in rock music. His band White Zombie dominated the rock charts in the early 1990s with their hits like "More Human Than Human" and "Thunderkiss 65", winning all sorts of MTV Award hardware. In 1998, Rob broke the band apart and struck out on his own delivering the ultra-successful Hellbilly Deluxe, which gave him the Top 10 smash "Dragula". Since then, he's released The Sinister Urge and American Made Music to Strip By, an album full of remixes from the Hellbilly Deluxe sessions. In April of 2000, he set out to take the silver screen by storm when he began writing House of 1000 Corpses. Three years and two studios later, the film is finally ready to be unspooled on movie screens everywhere. I had the opportunity to sit down and talk to Rob about the film and his music.
Mark McLeod: The film House of 1000 Corpses has had a long road to the screen. What's it like knowing that your vision will finally be released on movie screens everywhere?
Rob Zombie: It's amazing. I mean, it's incredible. I always knew that it would happen, even though for the most part it seemed like it wasn't going to happen. It's great. I still can't quite believe that I'm a week away from the movie being released in theatres. It's totally bizarre.
MM: There have been comparisons to Texas Chainsaw Massacre. Do you think House will eventually become a cult classic?
RZ: That's impossible to say only because who can predict a cult classic? It's always like the most unexpected film that becomes a cult classic. You know a lot of people who have seen it have said that it has that potential. That would be fantastic, I hope it does, but it's hard to say.
MM: The film as it's seen on the screen now has some violent overtones. Is the film opening in theaters your true vision or is there uncut footage that might make its way onto a DVD?
RZ: What appears on screen now is my "R" rated vision. Every studio I went to, the one stipulation was they would only release the movie if it was rated "R". So I had to cut whatever I had to cut to get the "R" rating. Eventually there will definitely be an unrated Director's Cut...
MM: So how much more footage are we talking about?
RZ: I'm not exactly sure, could be anywhere from 15 to 20 minutes.
MM: Sticking with the DVD for a minute, are there any plans for cool bonus materials to be included?
RZ: Yeah definitely. I want to put as much bonus material as I can. I mean commentaries are always great because you can point out all the mistakes and problems with the production. I was saving stuff all along -- I have casting sessions, multiple trailers, behind the scenes stuff, interviews with all the actors. All kinds of cool stuff.
MM: So was it hard for a star like Rob Zombie to get people to believe in a movie project?
RZ: It kind of works both ways. It's easier to get people's attention, but at the same time because they think of you only one way it's hard to get them to think of you another way. Every single day I'll have a meeting with somebody and then after the meeting, they're always like, 'Wow, I thought you were so different!' I don't know, I guess they thought I was going to run into the meeting and jump up on the table and start pouring blood all over the place. You know, there's a certain perception you have to get over.
MM: The soundtrack features 5 new songs by yourself including a very cool cover of The Commodore's disco classic "Brickhouse". How did that song become part of the soundtrack, because the way you use it in the film is really quite cool.
RZ: Well in the film I use the original version obviously because I figured you couldn't turn on the radio in 1977 without hearing "Brickhouse". When it came time to put the soundtrack together, I wanted to do something different, give the soundtrack an extra bonus. That's when I came up with the idea of remaking the song and someone suggested getting Lionel Ritchie involved and it snowballed from there.
MM: I was reading your website and noticed you'll be contributing a track to The Matrix: Reloaded soundtrack. This marks the second track you've had in the Matrix series of films. What's it like having your music in one of the coolest movie series to come along in some time?
RZ: It's great. The first Matrix -- it was funny when we did the soundtrack, nobody knew what it was going to be. It was actually a fairly low-budget soundtrack, but then the movie blew up so huge. So to get called back to do another song for the next one is an honor.
MM: Can we expect to hear Rob Zombie music in The Matrix: Revolutions?
RZ: Possibly, yes. We're talking about it.
MM: I'm sure all your fans want to know, what's next for Rob Zombie? Do you have another movie or album in the works?
RZ: Both... I'm not sure what the next movie will be. I'm checking out a couple different offers. It will definitely be a horror movie for sure. The main things I'm finishing up right now is that after all these years, I finally have a comic book coming out. A line of comic books called Spookshow International I've been trying to get going for a number of years. The first issue will be out in July. And the other thing is I just signed a book deal to release a book called "Rob Zombie Presents: Monsters, Murderers, and Maniacs", and that is a collection of short stories that I will be illustrating.
MM: So is that along the same lines as the movie then?
RZ: No, well it's more like classic short stories by other people and I'm just going to illustrate them. That will be out sometime early in 2004.
MM: The movie is dark and bizarre, as is your music. Is that a Rob Zombie trademark?
RZ: I think so, yeah. That's just the way I am. Even as a little kid I was very much how Pugsley or Wednesday on The Addams Family were. Just a weird little kid.
MM: Any special plans for Halloween?
RZ: Well not yet. I hope the DVD will be released on Halloween and I'd like to go out on the road and do some sort of special tour with the cast from the film promoting the DVD.
MM: Any big plans for the movie premiere?
RZ: The big premiere is April 9th in Hollywood. We're still putting the party together. It'll be crazy because I have a very strange assortment of friends, everybody from Alice Cooper to Elvira to Diamond Dallas Paige to Glen Danzig. All my friends are either horror type people or wrestlers. It's going to be a freak show. It's going to be ridiculous.
Special thanks to Rob Zombie and Fran Todoro at Lions Gate Films.
House of 1000 Corpses -- directed by Rob Zombie -- is in theatres everywhere on April 18, 2003.
Tags: Rob Zombie, House of 1000 Corpses, White Zombie, Sheri Moon, Karen Black, The Matrix, Brickhouse
Related Posts
Mark McLeod has always loved film. In addition to his roles with ShowbizMonkeys.com, Mark also works on many film promotion projects in Vancouver, BC, through his company, Mark McLeod PR.
Comments Posted ()
Search SBM Archives