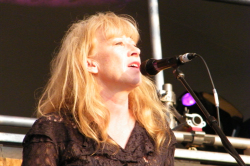 Interview: Celtic folk singer and multi-instrumentalist Loreena McKennitt
Filed under: Interviews
At this past summer's Winnipeg Folk Festival, I got the chance to see some incredibly amazing performers, both young folk acts just coming into their own, as well as some classic names in folk and roots music. Between Loudon Wainwright III, Arlo Guthrie, Elvis Costello, and Loreena McKennitt, there was no shortage of legends hitting the stage. So you could imagine my delight when I heard I'd get the opportunity to interview some of them!
Shortly after the festival, I posted my interview with Loudon Wainwright III, but I also got to speak with the absolutely lovely Loreena McKennitt prior to her headlining performance on the final night of the festival. McKennitt, a Manitoba product who has become one of the world's biggest names in Celtic folk and world music, is about to release her new album, A Mediterranean Odyssey, on October 20th. A double album featuring recordings from her 2009 Mediterranean Tour along with previously unreleased studio material, the collection also includes a 24-page booklet filled with illustrations and photos from her tour.
As we approach this new release, it seems like as good a time as any to bring you my interview with McKennitt. Her responses were some of the most carefully thought-out I've received in my 3 years of doing interviews, and I truly appreciated the brief conversation we had.
Also, be sure to check out www.quinlanroad.com, the Official Website of Loreena McKennitt and her private record label, for any news surrounding her music, touring, etc. And if she ever does perform in your neck of the woods, her live show is not to miss -- she and her band are so talented and their music so haunting, that the performance is sure to move you.
Paul Little: So first of all, I just wanted to ask: do you enjoy coming back to Manitoba, and this festival specifically, to perform?
Loreena McKennitt: Oh absolutely. I have many, many fond memories of this festival, not just as a performer but as a member of the public. And it's great to come back now and see how much it's grown and evolved. It's incredibly well-organized. I was saying to the director earlier, I think they could actually patent so many things about the organization, so it's a great pleasure to be back.
PL: You have a prairie background of course, being from from Morden, Manitoba. Has that upbringing had any influence on your songwriting or your sound over the years?
LM: I don't think too much of it has an influence. I think what occurred when I was living here and growing up in Morden, I took classical music lessons. And so there's a classical dimension to my music or maybe the way that we perform it. But the actual content of the music would have been much more informed by travels I've made to Ireland and other places in the world.
PL: You've been making music for over 20 years now. Do you still get the same things out of it that you did when you were busking in Toronto back in the day?
LM: (Laughs) Well I think in each circumstance you get different things out of it. In the end, I quite enjoyed busking from the standpoint that it was quite a social thing and I got to know a lot of people. I used to busk by the market in Toronto, or at Grandville Market in Vancouver, or the Covent Garden in London, and I got to meet people and chat with them on an informal basis. I also enjoyed house concerts. Again, you had the intimacy of that kind of thing, and that's a very different thing from -- well, the other night we performed for 35 or 40,000 people in Quebec City. It's a different dynamic and each has its own advantages and pleasures.
PL: You've received acclaim and have been honored all over the world: you've won Junos, you've been nominated for a Grammy recently, you've received the Order of Canada. Does that recognition ever get old or do you still sometimes have to pinch yourself?
LM: No, it doesn't get old -- meaning that I'm very grateful to be recognized by my peers or to be honored. I think most people who find themselves with this kind of recognition don't do what they do for the recognition. You just do what you do because you either love doing it or you believe very strongly that it has to be done. It's still nice to be acknowledged -- it's not necessary, but it's very nice. (Laughs)
PL: You're kind of an English teacher's dream --
LM: (Laughs)
PL: -- using classic literary works for some of your lyrics. In fact the first time I ever heard you was in high school. We were studying "The Lady of Shalott", and my English teacher brought in your recording to play it for us and kind of bring a different feel to the poem. What is it about that classic writing that kind of inspires you?
LM: Well, I would say that my lyric writing is far from my strongest point. And then when I'm assembling songs for recording, I do my best in the lyric writing department, but I like to have other voices -- and where better can you go than some of the classical writers? And also tapping into the oral tradition of the Celts, which is what's drawn me to these long, narrative poems, and yet I'm looking for certain imagery or certain connection perhaps to the Celts or history. But the imagery is also quite important. But of course, wordsmiths like Shakespeare or Yates or William Blake or Tennyson, they're pretty fabulous. I draw from the Dead Poets' Society. (Laughs)
PL: Are there any up and coming musicians that you've noticed recently that you're kind of impressed with or have caught your ear?
LM: I would love to be able to -- I just feel I live under a rock. I'm embarrassed to say it but I know there are, but I don't really get out much. (Laughs) And it's not because I don't want to, it's just sort of the composition of my life and responsibilities at this time.
Tags: Loreena McKennitt, Celtic, folk, Winnipeg Folk Festival, music festival, A Mediterranean Odyssey
Related Posts
Paul Little is the founder and Managing Editor of ShowbizMonkeys.com. When not interviewing his favourite musicians and comedians, he can also be found putting on and promoting music and comedy events with The Purple Room in Winnipeg, or co-producing the live comedy game shows Pants on Fire and The Great Patio Showdown. (@comedygeek)
Comments Posted ()
Search SBM Archives