Interview: Rip Esselstyn, author of "The Engine 2 Diet", talks about the new film Forks Over Knives
Filed under: Interviews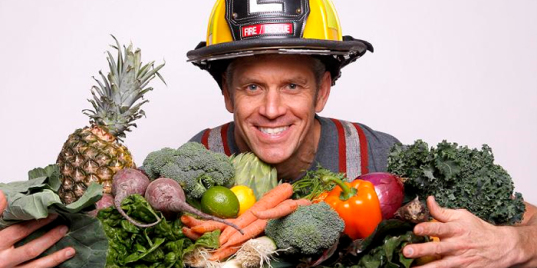 What if I told you that many of the ailments killing North Americans today, such as some forms of cancer, heart diease, stroke, and diabetes could be reversed by making one simple change. What is that change, you might ask? Simply put, it's eating a diet consisting of solely plant-based foods. That topic is discussed at length in the shocking new documentary, Forks Over Knives, which is currently playing throughout North America and opening on more screens in the coming weeks.
Set to do for the meat, diary, and pharmacutical industries what An Inconvenient Truth did for global warming, this is one documentary that you must see. It intends to, and very well can, change your life. ShowbizMonkeys.com sat down with one of the film's subjects, Rip Esselstyn -- a triathelete turned fire fighter turned best-selling author -- ahead of the film's Vancouver release to discuss this interesting subject. Rip's father, Dr. Caldwell B. Esselstyn, Jr., is also heavily featured in the film.
You can learn more about Rip's work at engine2diet.com, while more information on Forks Over Knives -- including where it's playing in your neck of the woods -- can be found at forksoverknives.com.
Tags: Rip Esselstyn, Forks Over Knives, The Engine 2 Diet, documentary, health, vegan diet
Related Posts
Mark McLeod has always loved film. In addition to his roles with ShowbizMonkeys.com, Mark also works on many film promotion projects in Vancouver, BC, through his company, Mark McLeod PR.
Comments Posted ()
Search SBM Archives