Thanks for 10 great years... and counting!
Filed under: Special Coverage
Ten years ago, three web designers fresh out of school and a guy with experience in promotions and media decided to answer the call from movie studios across Canada to offer a home for online giveaways of movie passes and DVDs. These giveaways had been happening through a local movie website, but the studios liked the idea so much that they wanted it to expand. That local site wasn't interested in providing content for the rest of the country and beyond, so in September of 2001, Thu Tran, Jeff Anseeuw, Carl McGill, and yours truly launched CanadaMovies.net, a source for movie showtimes and contests in Winnipeg and Calgary.
That first month was strange for us. Besides never having run a website remotely at this scale, we were also immediately working on expanding our local sections to other cities in Canada, frantically looking for volunteer reps in cities many of us didn't even know anybody. When a worldwide tragedy happened on 9/11, less than two weeks after our launch, we realized that people from all over were now reading what we were writing, and so we addressed our visitors and offered our condolences -- transforming our "fun movie website" into a pretty sombre place right off the hop.
But those early days were indeed fun. We took a trip out west to launch new cities and an expanded brand (MovieContests.com) in early 2002. We brought on writers who had no professional experience to start reviewing movies. We found people with no promotional experience but who were willing to learn, to help give away passes and run promotional nights in local clubs. Basically, we dove in head first into something we had absolutely no clue about!
After format changes, some staff turnover (Thu and Jeff left early on, and Carl parted ways with the site a few years later), a bit of time on the radio, a complete re-branding and re-launch nearly four years ago, and thousands of articles and contests, we now find ourselves celebrating a 10th anniversary that most thought would never happen (and I was at the top of that list). We no longer list showtimes, and aren't able to review every movie coming out of Hollywood like we used to, but we're now bringing you unique and interesting editorials, coverage well beyond movies, and interviews with some of the most interesting and creative artists in movies, television, music, and comedy -- plus, we still have those contests that started it all!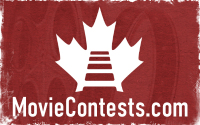 ShowbizMonkeys.com is a labour of love. All the writers, promotional reps, content providers, editors, and interviewers enjoy what they do, and this site would not exist without their tireless work (some of them have been with us since the early days, including Mary Meister, Farhan Daya, Greg & Aimee Huckriede, and Mark McLeod). This site also wouldn't have any kind of purpose if not for our loyal visitors -- those of you who come for the articles, the movie information, the reviews, and of course, the contests. Some of you have been visiting our site since September 2001, and that is insane to me in the best possible way. We can't thank you enough for liking what we do. We're always pushing for our audience to expand and grow, but we hope that is never at the expense of those who used to go to CanadaMovies.net and MovieContests.com a decade ago.
Personally, it's been a fun 10 years, and I'm looking forward to many more to come. For much of our history, I was strictly a web programmer, content editor, and occasional promotional co-ordinator, but once I started getting the opportunity to interview actors, comedians, and musicians, my excitement for the site really took off. I've spoken to comedy idols, watched my favourite musicians from 15 feet away, and set foot on the Oscar Red Carpet, all because our grand ideas in the summer of 2001. Things may not have ended up even close to where we had envisioned back then, but ShowbizMonkeys.com is an extremely unique entity on the web that we're so proud to be a part of. It's so much more than a movie showtimes and contest website -- today, it is an organic, fiercely independent, grassroots collection of writers, creative types, and consumers of media.
Thanks for sticking with us up until this point, and we hope you enjoy all the changes and additions we have in store for you in the coming months, years, and beyond! (Oh, and as always: tell your friends, and leave us a comment)
Tags: ShowbizMonkeys.com, CanadaMovies.net, MovieContests.com, anniversary, 10 years
Paul Little is the founder and Managing Editor of ShowbizMonkeys.com. When not interviewing his favourite musicians and comedians, he can also be found putting on and promoting music and comedy events with The Purple Room in Winnipeg, or co-producing the live comedy game shows Pants on Fire and The Great Patio Showdown. (@comedygeek)
Comments Posted ()
Search SBM Archives