Interview: Blue Collar Boys director Mark Nistico
Filed under: Interviews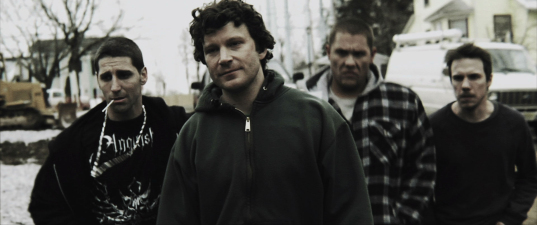 Mark Nistico strolls into the Filmmaker's Lounge on the second floor of the Hyatt Regency in downtown Toronto flanked by his mother and brother -- his gait suggests an inkling of hesitation; a feeling of not quite belonging. The director is younger than most, lean and lanky with the shadow of a beard lending his visage an air of maturity it might otherwise lack. He hails from Elizabeth, NJ where he grew up in a working-class neighborhood. It was this experience that inspired his first major feature film, Blue Collar Boys, debuting at the Toronto International Independent Festival Wednesday, September 14, 2011. As we settle into a quiet corner of the lounge, Nistico's unease evaporates, overtaken by his passion for independent filmmaking and enthusiasm for his work.
The film centers around Red (Gabe Fazio), a disenchanted construction worker struggling to keep his father's contracting business afloat amidst housing developers who won't pay up and the failing economy. After his father unexpectedly dies, he is left to shoulder the burden alone. In desperation and a misguided sense of loyalty, he joins his childhood friends in a series of petty crimes and shady dealings.
Blue Collar Boys was produced for a paltry $75,000 over the course of four years. "We're true indie -- a homegrown feature. Self-financed, everything," said Nistico. The director recruited college students to serve as crew and managed to gain free access to numerous shooting locations. "We shot at twenty-five locations, and except for the prison we only paid for two of them." Despite the low-budget, the film boasts a polished aesthetic and authentic performances from a sizable cast. Nistico valued finding actors who "had lived the life." He describes the audition process: "Guys came in and we had a cinder block in the middle of the floor. 'Oh you work construction?' 'O yeah, yeah.' 'Pick up the cinder block with your left hand and raise it over your head.' ... There were some marvelous actors we had to turn down because they didn't live the life."
Above all else, Nistico desires "to tell the story, to be inspirational to the people who never get their story told." His father owned and operated a construction company which he "built from the ground up." "I watched my dad come home every day dirty, with busted up fingers from working, tired -- he never complained," confides the filmmaker. It is people like his father and their families who Nistico hopes to reach. He harnesses their anger and frustration, especially in the wake of the economic downturn, and humanizes it. "It's gritty, it's scary but I wanted to show these guys are just normal people. . .There's a reason they're angry."
Tags: Mark Nistico, Blue Collar Boys, Gabe Fazio, Toronto International Independent Film Festival, indie film, Kevin Interdonato, Bruce Kirkpratick
Related Posts
Comments Posted ()
Search SBM Archives