Interview: Stephen Sim of "really nice guys" improv duo CRUMBS
Filed under: Interviews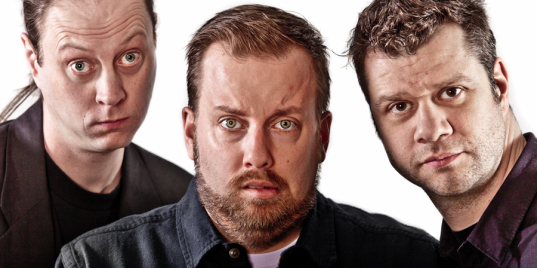 When one thinks of improv comedy, there are likely a few things that immediately come to mind: Second City, Whose Line is it Anyway?, possibly Upright Citizens Brigade, or maybe even the late Del Close. But what about a little group called CRUMBS?
Improvisers across Canada and Europe -- as well as fans of the art form -- are likely well-acquainted with the duo of Stephen Sim and Lee White (now a trio, including the musical soundtrack of DJ Hunnicut), who have in many circles achieved legendary* status. The two Winnipeg comedians began performing together two decades ago, and in the years since have mastered their unique brand of long form improv. Twenty years, hundreds (thousands?) of performances, and a musical addition later, CRUMBS are as busy as ever.
Sim and White host a weekly radio show, teach improv classes to countless budding improvisers, write and produce comedy in various forms, and run the Winnipeg Improv Festival. As a group, they perform regularly in the local comedy scene, appear at fringe, comedy, and improv festivals around the globe, and tour Europe twice a year. They've also helped to build an improv scene in Winnipeg that, while a under the radar compared to places like Chicago and Toronto, has been thriving for quite some time.
Fresh off hosting duties at the Winnipeg Folk Festival and multiple 5-star reviews for their latest run at the Winnipeg Fringe Festival (9:30pm nightly at the King's Head Pub until July 29), I got the chance to speak with Stephen Sim about the world of CRUMBS and improvised comedy in between all the shows he's involved with at this year's festival.
You can find more information on CRUMBS, their European tours, and more at crumbscomedy.blogspot.com. Also, be sure to follow @simprov and @theCRUMBS on Twitter.
(* As Sim points out in the video, they'd prefer not to be called legends until after they're dead, suggesting for now to describe their group as we did in our headline: "really nice guys" CRUMBS. Considering they're pretty young guys still, I get it, though I also understand why they're referred to as legendary. I have never attended a CRUMBS show where I didn't leave thinking it was one of the funniest things I'd ever seen.)
Tags: Stephen Sim, CRUMBS, Winnipeg Fringe Festival, Winnipeg Folk Festival, improv, comedy, Lee White, DJ Hunnicut
Related Posts
Paul Little is the founder and Managing Editor of ShowbizMonkeys.com. When not interviewing his favourite musicians and comedians, he can also be found putting on and promoting music and comedy events with The Purple Room in Winnipeg, or co-producing the live comedy game shows Pants on Fire and The Great Patio Showdown. (@comedygeek)
Comments Posted ()
Search SBM Archives