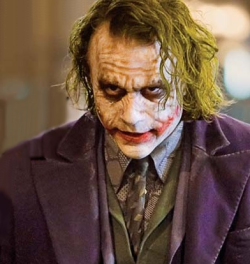 Academy Award Nominations: Benjamin Button, Slumdog, and Dark Knight lead the pack
After a few years of critically-lauded but hardly-seen films vying for the top spots at the Academy Awards, many were predicting that things this year would return back to the so-called "Golden Age", when commercially successful films could still win the big awards. The Dark Knight and WALL•E -- both massive box office successes -- were also loved by critics everywhere, and the thought was that either (or both) of them could've ended up being nominated for Best Picture.
Instead, though, the Academy ended up following their recent history, heaping nominations onto smaller films most moviegoers haven't even seen. The Curious Case of Benjamin Button (which leads all films with 13 nominations) is the only Best Picture nominee to make north of $100-million. The other four films -- Slumdog Millionaire (which received 10 total nominations), Milk (8 nominations), The Reader (5 nominations), and Frost/Nixon (5 nominations) -- haven't even made $100-million combined, though with Slumdog's expected post-nomination buzz and the film still expanding, the Golden Globe winner for Best Drama does have a chance to beef up its current tally of $40-million.
The Dark Knight did end up with 8 nominations, including the expected nomation for the late Heath Ledger, whose turn as the Joker is the runaway favourite to take home a posthumous Oscar for Best Supporting Actor. And WALL•E received 6 total nominations, though outside of Best Animated Feature (a lock to win) and Original Screenplay, the rest are for sound and music, common for animated films. The biggest surprise from a big-budget blockbuster (and a pleasant one at that) came from Robert Downey Jr.'s nomination for Best Supporting Actor in Ben Stiller's outrageous and over-the-top Tropic Thunder.
Curiously absent from most categories are Clint Eastwood's Gran Torino (though his less-acclaimed film, Changeling, did get 3 nominations), Golden Globe-winner In Brudges (only getting 1 writing nomination), and Revolutionary Road (3 nominations, but none for Leonardo DiCaprio, Kate Winslet, or director Sam Mendes).
The complete list of nominees can be found below.
Best Picture
The Curious Case of Benjamin Button (Paramount and Warner Bros.)
Frost/Nixon (Universal)
Milk (Focus Features)
The Reader (The Weinstein Company)
Slumdog Millionaire (Fox Searchlight)
Best Director
Danny Boyle for Slumdog Millionaire (Miramax)
Stephen Daldry for The Reader (The Weinstein Company)
David Fincher for The Curious Case of Benjamin Button (Fox Searchlight)
Ron Howard for Frost/Nixon (Paramount and Warner Bros.)
Gus Van Sant for Milk (Miramax)
Best Actor
Richard Jenkins in The Visitor (Overture Films)
Frank Langella in Frost/Nixon (Universal)
Sean Penn in Milk (Focus Features)
Brad Pitt in The Curious Case of Benjamin Button (Paramount and Warner Bros.)
Mickey Rourke in The Wrestler (Fox Searchlight)
Best Actress
Anne Hathaway in Rachel Getting Married (Sony Pictures Classics)
Angelina Jolie in Changeling (Universal)
Melissa Leo in Frozen River (Sony Pictures Classics)
Meryl Streep in Doubt (Miramax)
Kate Winslet in The Reader (The Weinstein Company)
Best Supporting Actor
Josh Brolin in Milk (Focus Features)
Robert Downey Jr. in Tropic Thunder (DreamWorks, Distributed by DreamWorks/Paramount)
Philip Seymour Hoffman in Doubt (Miramax)
Heath Ledger in The Dark Knight (Warner Bros.)
Michael Shannon in Revolutionary Road (DreamWorks, Distributed by Paramount Vantage)
Best Supporting Actress
Amy Adams in Doubt (Miramax)
Penélope Cruz in Vicky Cristina Barcelona (The Weinstein Company)
Viola Davis in Doubt (Miramax)
Taraji P. Henson in The Curious Case of Benjamin Button (Paramount and Warner Bros.)
Marisa Tomei in The Wrestler (Fox Searchlight)
Best Screenplay (Adapted)
The Curious Case of Benjamin Button (Paramount and Warner Bros.), Screenplay by Eric Roth, Screen story by Eric Roth and Robin Swicord
Doubt (Miramax), Written by John Patrick Shanley
Frost/Nixon (Universal), Screenplay by Peter Morgan
The Reader (The Weinstein Company), Screenplay by David Hare
Slumdog Millionaire (Fox Searchlight), Screenplay by Simon Beaufoy
Best Screenplay (Original)
Frozen River (Sony Pictures Classics), Written by Courtney Hunt
Happy-Go-Lucky (Miramax), Written by Mike Leigh
In Bruges (Focus Features), Written by Martin McDonagh
Milk (Focus Features), Written by Dustin Lance Black
WALL-E (Walt Disney), Screenplay by Andrew Stanton, Jim Reardon, Original story by Andrew Stanton, Pete Docter
Best Animated Feature
Bolt (Walt Disney)
Kung Fu Panda (DreamWorks Animation, Distributed by Paramount)
WALL-E (Walt Disney)
Best Foreign Feature
The Baader Meinhof Complex, Germany
The Class (Sony Pictures Classics), France
Departures (Regent Releasing), Japan
Revanche (Janus Films), Austria
Waltz with Bashir (Sony Pictures Classics), Israel
Best Original Score
The Curious Case of Benjamin Button (Paramount and Warner Bros.),Alexandre Desplat
Defiance (Paramount Vantage), James Newton Howard
Milk (Focus Features), Danny Elfman
Slumdog Millionaire (Fox Searchlight), A.R. Rahman
WALL-E (Walt Disney), Thomas Newman
Best Original Song
Down to Earth from WALL-E (Walt Disney), Music by Peter Gabriel and Thomas Newman, Lyric by Peter Gabriel
Jai Ho from Slumdog Millionaire (Fox Searchlight), Music by A.R. Rahman, Lyric by Gulzar
O Saya from Slumdog Millionaire (Fox Searchlight), Music and Lyric by A.R. Rahman andMaya Arulpragasam
Best Documentary Feature
The Betrayal (Nerakhoon) (Cinema Guild)
Encounters at the End of the World (THINKFilm and Image Entertainment)
The Garden
Man on Wire (Magnolia Pictures)
Trouble the Water (Zeitgeist Films)
Best Documentary Short
The Conscience of Nhem En
The Final Inch
Smile Pinki
The Witness - From the Balcony of Room 306
Best Animated Short
La Maison en Petits Cubes
Lavatory - Lovestory
Oktapodi (Talantis Films)
Presto (Walt Disney)
This Way Up
Best Live-Action Short
Auf der Strecke (On the Line) (Hamburg Shortfilmagency)
Manon on the Asphalt (La Luna Productions)
New Boy (Network Ireland Television)
The Pig
Spielzeugland (Toyland)
Best Cinematography
Changeling (Universal), Tom Stern
The Curious Case of Benjamin Button (Paramount and Warner Bros.), Claudio Miranda
The Dark Knight (Warner Bros.), Wally Pfister
The Reader (The Weinstein Company), Chris Menges and Roger Deakins
Slumdog Millionaire (Fox Searchlight), Anthony Dod Mantle
Best Editing
The Curious Case of Benjamin Button (Paramount and Warner Bros.), Kirk Baxter and Angus Wall
The Dark Knight (Warner Bros.), Lee Smith
Frost/Nixon (Universal), Mike Hill and Dan Hanley
Milk (Focus Features), Elliot Graham
Slumdog Millionaire (Fox Searchlight), Chris Dickens
Best Art Direction
Changeling (Universal), Art Direction: James J. Murakami, Set Decoration: Gary Fettis
The Curious Case of Benjamin Button (Paramount and Warner Bros.), Art Direction: Donald Graham Burt, Set Decoration: Victor J. Zolfo
The Dark Knight (Warner Bros.), Art Direction: Nathan Crowley, Set Decoration: Peter Lando
The Duchess (Paramount Vantage, Pathé and BBC Films), Art Direction: Michael Carlin, Set Decoration: Rebecca Alleway
Revolutionary Road (DreamWorks, Distributed by Paramount Vantage), Art Direction: Kristi Zea, Set Decoration: Debra Schutt
Best Costume
Australia (20th Century Fox), Catherine Martin
The Curious Case of Benjamin Button (Paramount and Warner Bros.), Jacqueline West
The Duchess (Paramount Vantage, Pathé and BBC Films), Michael O'Connor
Milk (Focus Features), Danny Glicker
Revolutionary Road (DreamWorks, Distributed by Paramount Vantage), Albert Wolsky
Best Makeup
The Curious Case of Benjamin Button (Paramount and Warner Bros.), Greg Cannom
The Dark Knight (Warner Bros.), John Caglione, Jr. and Conor O'Sullivan
Hellboy II: The Golden Army (Universal), Mike Elizalde and Thom Floutz
Best Sound Editing
The Dark Knight (Warner Bros.), Richard King
Iron Man (Paramount and Marvel Entertainment), Frank Eulner and Christopher Boyes
Slumdog Millionaire (Fox Searchlight), Tom Sayers
WALL-E (Walt Disney), Ben Burtt and Matthew Wood
Wanted (Universal), Wylie Stateman
Best Sound Mixing
The Curious Case of Benjamin Button (Paramount and Warner Bros.), David Parker, Michael Semanick, Ren Klyce and Mark Weingarten
The Dark Knight (Warner Bros.), Lora Hirschberg, Gary Rizzo and Ed Novick
Slumdog Millionaire (Fox Searchlight), Ian Tapp, Richard Pryke and Resul Pookutty
WALL-E (Walt Disney),Tom Myers, Michael Semanick and Ben Burtt
Wanted (Universal), Chris Jenkins, Frank A. Montaño and Petr Forejt
Best Visual Effects
The Curious Case of Benjamin Button (Paramount and Warner Bros.), Eric Barba, Steve Preeg, Burt Dalton and Craig Barron
The Dark Knight (Warner Bros.), Nick Davis, Chris Corbould, Tim Webber and Paul Franklin
Iron Man (Paramount and Marvel Entertainment), John Nelson, Ben Snow, Dan Sudick and Shane Mahan
Tags: Oscars, Academy Awards, awards, Benjamin Button, The Dark Knight
Related Posts
Paul Little is the founder and Managing Editor of ShowbizMonkeys.com. When not interviewing his favourite musicians and comedians, he can also be found putting on and promoting music and comedy events with The Purple Room in Winnipeg, or co-producing the live comedy game show Pants on Fire. (@comedygeek)
Search SBM Archives