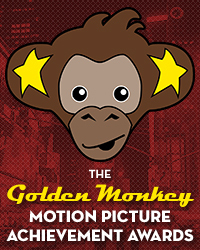 The Golden Monkey Awards: Our Top Movies of 2008
Filed under: SBM Awards
It's Oscar time again! The 81st Annual Academy Awards are taking place this weekend -- and ShowbizMonkeys.com is in Los Angeles covering the event. We'll have some great video coverage from our time on the Red Carpet this year, but this post isn't about the Academy Awards. It's about OUR awards -- our own picks for the best movies of the year. Normally we post this in early January, but we figured shamelessly latching onto the buzz created by the biggest awards show of the year would give us more attention.
While we did tend to like films the Academy as a whole have recognized, they may not have gotten it right across the board, and some movies were passed over for the major awards that probably shouldn't have. The Oscars are usually a one-genre show, almost exclusively honouring a variety of dramas. Comedies and action flicks, depsite their mass appeal, are frequently absent at the Academy Awards. But our top five includes two action movies and a comedy, and our other favourites also include some of these non-dramatic films. And why not? People like them, we like them, and they deserve some notoriety.
1. The Dark Knight
Did the Oscars snub The Dark Knight by not giving it nominees for Best Picture or Best Director, or was it a breakthrough that a "comic book" movie garnered 8 nominations? Either way, there's no snub from us, as we figure it's a no brainer that this would be at the top of our list. The performances were great, the storyline was decent, and the action level was just right, each without comprising the others. And Heath Ledger deserves any posthumous awards he receives for his performance as the Joker, including the Best Supporting Actor Oscar.
2. Slumdog Millionaire
Slumdog Millionaire is the underdog film of the year -- but as more people finally see it, they're falling in love with it. With a vast cast of talented newcomers, the film portrays its theme and setting to the utmost authentic standard. The story is not your typical fairytale, though a fairytale nonetheless, packed with gritty action and suspense grasping the interest of the audience & keeping hold of it. With the addition of beautiful cinematography and interesting angles, not to mention a unique sound with amazing collaborations in the score, Slumdog was most certainly one of the best films of the year.
3. Quantum of Solace
The Oscars may not have shown any love to 007, but that's not the case here. While Casino Royale may have been a better film, Quantum of Solace was still a great entry to the Bond franchise and a solid film overall. Daniel Craig and his more human and flawed James Bond have reinvigorated the franchise. A little more storyline in this one -- like we saw in Casino Royale -- might have put it even higher on our list, but it was still a "big screen" event without compromising realism like the majority of action blockbusters out there.
4. The Curious Case of Benjamin Button
It may have 13 Oscar nominations, but The Curious Case of Benjamin Button has been the easy film to knock out of all the Best Picture Oscar nominees. That doesn't mean ShowbizMonkeys.com wants to knock it, though. It was deliberate in taking its time to tell the story, and showed that a kind and gentle lead character (which Brad Pitt's reverse-aging Benjamin was) could carry the story. The audience grew with Benjamin -- we felt the innocent joy along with him as he discovered life in a unique way, and our hearts ached when he went through his struggles. David Fincher and Brad Pitt have made three stellar movies together.
5. Forgetting Sarah Marshall
You don't see comedies honoured at the Academy Awards very often, and certainly not these kinds of comedies, but Forgetting Sarah Marshall was a smart and funny film that deserves to be recognized. Written by and starring Jason Segal -- who prior to this film most people only knew from TV shows like Freaks & Geeks and How I Met Your Mother, the Judd Apatow-produced movie was probably the best comedy of the last several years. It was just off-the-wall enough to be shocking and silly, but managed to still stay grounded in reality to recognize the characters' humanity to boot. Also, it was a masterful coming-out party to American audiences for Russell Brand, who stole every scene he was in.
Other Favourites
The Wrestler
Revolutionary Road
Changeling
U2 3D
Tropic Thunder
Nick & Norah's Infinte Playlist
Iron Man
Frost/Nixon
Twilight
In Bruges
Mamma Mia!
Body of Lies
Marley & Me
American Teen
The Chronicles of Narnia: Prince Caspian
(Additional reporting by Aimee Huckriede and Sarah Kim.)
Tags: The Dark Knight, Quantum of Solace, Slumdog Millionaire, The Curious Case Of Benjamin Button, Forgetting Sarah Marshall, top 10, lists, awards
Related Posts
Paul Little is the founder and Managing Editor of ShowbizMonkeys.com. When not interviewing his favourite musicians and comedians, he can also be found putting on and promoting music and comedy events with The Purple Room in Winnipeg, or co-producing the live comedy game shows Pants on Fire and The Great Patio Showdown. (@comedygeek)
Search SBM Archives