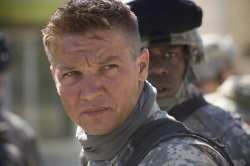 Academy Awards Coverage: The Hurt Locker takes down the mighty Avatar; our own Douglas Maynard asks the tough questions
Filed under: Festivals
As the Academy Awards draw to a close, I'm reminded of something said at Friday's press conference in Hollywood with Oscar co-producers Adam Shankman and Bill Mechanic and Academy president Tom Sherak. I can't recall which one of the three said it, but we were told that there would be more excitement during the first hour of this year's Academy Awards telecast than ever before. Things would be fast-paced, you see, and this ceremony would be more appealing to younger viewers than ever before. Looking back on that first hour, and the show as a whole, I'm not quite sure what they were talking about.
Sure, the opening musical number featuring Neil Patrick Harris was phenomenal (should he host next year?); the banter between hosts Steve Martin and Alec Baldwin has been mostly really funny (who knew Meryl Streep had such a bit Hitler memorabilia collection?!); the John Hughes tribute was nice to see; Ben Stiller in Avatar make-up (when Avatar wasn't even nominated in that category!) was one of the funniest moments of the night; and there were of course some memorable acceptance speeches. But the most exciting first hour ever? Hardly. And a fast-paced extravaganza? Well, the show ran long once again.
That's not to say this year's telecast was bad. It just wasn't special. It was your typical Oscar telecast with funny hosts, a lot of boring awards nobody cares about in the middle, and mostly-predictable wins across the board.
It's true -- there were few surprises in this year's winners. According to people on my Twitter feed, apparently Logorama winning Best Animated Short was a big upset. But wins by Mo'Nique, Christoph Waltz, Up, and The Cove were completely expected. With all the awards they won leading up to the Oscars, even the wins by Sandra Bullock and Jeff Bridges were predicted by almost everybody. And frankly, who didn't see Kathryn Bigelow and The Hurt Locker triumphing over her ex-husband James Cameron and his gagillion-dollar money-maker Avatar? (I mean, I wrote the headline to this post an hour into the telecast.) Still, just because they were predicted, doesn't mean they weren't deserving, and this year's collection of winners were by most considered to be the best of the best. That's, of course, how it should be. Good job, Hollywood!
The full list of winners can be found below.
As mentioned above, ShowbizMonkeys.com (myself included) was also at the Academy Awards for the third year in a row. Once again, we received pre-show Red Carpet access, allowing us to see the set-up of the extravaganza and see all the media outlets in town covering the show. While recording footage on the Red Carpet, I was even interviewed by NBC Los Angeles about being a small online outfit covering the Oscars (and how on earth we even got press access).
Besides my own attendance, we tried something different this year, allowing a special correspondent (Douglas Maynard of Wisconsin) to produce coverage for our site. Douglas, accompanied by his mom behind the camera, decided to use his Red Carpet access to ask one pressing question. You can see his quest for answers in his video report below:
Complete List of Academy Award Winners
Best Picture: The Hurt Locker

Best Director: Kathryn Bigelow for The Hurt Locker
Best Actress: Sandra Bullock in The Blind Side
Best Actor: Jeff Bridges in Crazy Heart
Best Supporting Actress: Mo'Nique in Precious
Best Supporting Actor: Christoph Waltz in Inglourious Basterds
Best Original Screenplay:The Hurt Locker (Mark Boal)
Best Adapted Screenplay:Precious: Based on the Novel 'Push' by Sapphire (Geoffrey Fletcher)
Best Animated Feature:Up
Best Foreign Language Film: El Secreto de Sus Ojos (Argentina)
Best Original Score: Up (Michael Giacchino)
Best Original Song: "The Weary Kind (Theme from Crazy Heart)" from Crazy Heart (Music and Lyrics by Ryan Bingham & T Bone Burnett)
Best Documentary Feature: The Cove
Best Documentary Short:Music by Prudence
Best Animated Short: Logorama
Best Live-Action Short:The New Tenants
Best Cinematography:Avatar (Mauro Fiore)
Best Editing: The Hurt Locker (Bob Murawski & Chris Innis)
Best Art Direction:Avatar (Art Direction: Rick Carter & Robert Stromberg; Set Decoration: Kim Sinclair)
Best Costume Design:The Young Victoria (Sandy Powell)
Best Makeup:Star Trek (Barney Burman, Mindy Hall & Joel Harlow)
Best Sound Editing:The Hurt Locker (Paul N.J. Ottosson)
Best Sound Mixing:The Hurt Locker (Paul N.J. Ottosson & Ray Beckett)
Best Visual Effects: Avatar (Joe Letteri, Stephen Rosenbaum, Richard Baneham & Andrew R. Jones)
Tags: Academy Awards, Oscars, awards shows, The Hurt Locker, Kathryn Bigelow, Sandra Bullock, Jeff Bridges, Mo'Nique, Christoph Waltz, Up
Related Posts
Paul Little is the founder and Managing Editor of ShowbizMonkeys.com. When not interviewing his favourite musicians and comedians, he can also be found putting on and promoting music and comedy events with The Purple Room in Winnipeg, or co-producing the live comedy game shows Pants on Fire and The Great Patio Showdown. (@comedygeek)
Search SBM Archives