Walkey Talk: My Summer Playlist
Posted by: Mike Walkey // August 2, 2011 @ 6:21pm
Standing in line in the rain, catching hypothermia from an air conditioned auditorium, staying up late to watch a midnight showing of a popular movie. The summertime creates many a great movie going experiences. Over the years, my summer movie going experience has provided me with a plethora of great stories...
Summer of 1984
"Which one is scarier, Ghostbusters or Gremlins?" My dad knew I wanted to see both movies but was concerned they might be too scary for my little tyke eyes so he asked my mom that question. She replied, "Ghostbusters is the scary one. Gremlins is just stupid." Never wanting his son to see a stupid movie, my dad took me to see Ghostbusters instead. Sigourney Weaver still scares me.
Summer of 1991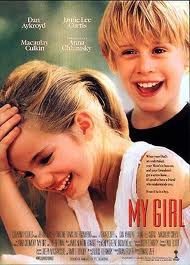 My first experience watching a movie that ended up being totally different from what I saw in the trailer. My Girl was being sold as a fun comedy for kids starring that kid from Home Alone (1990), a movie I loved. Naturally I wanted to see My Girl but when I did, I didn't find a Macaulay Culkin comedy but rather an Anna Chlumsky drama about life, death, growing up, and ...death! Over time, I've become fond of this poignant coming of age story, but at the time, I was just too young and immature to appreciate it.
Summer of 1993
I was sitting in a packed auditorium in Grant Park Cinemas waiting for Jurassic Park to start when I noticed an usher helping a man and his daughter find seats. Since there were only single seats left, the daughter sat beside me while the father sat two rows in front of us. "Wow!" I thought. "This must be a huge movie, people are willing to sit by themselves to see it! " Was this the first movie for this to occur? Of course not, but it was the first time I had witnessed it in person and it struck a chord with my adolescent mind.
Summer of 1994
While watching Speed, I notice in the early stages of the film when Jack (Keanu Reeves) is chasing down a public transit bus in his Bronco on a Los Angeles freeway, the footage is uncannily reminiscent of the notorious O.J. Simpson Ford Bronco slow speed chase on a similar LA freeway that shocked the world just a few days prior. The eerie timing could only have happened that particular summer.
Summer of 1999
My first summer working at a movie theatre. And my first experience with the fan boy culture, as May marked the opening of Star Wars Episode 1: The Phantom Menace. Originally contained to diehard fans of Star Wars and Star Trek, over the next decade, the costume wearing movie goer branched out to Harry Potter, Lord of The Rings, Pirates of The Caribbean, Alice and Wonderland, and Sex and The City. In the fall of 2010 a friend and I tried, albeit unsuccessfully, to add Wall Street: Money Never Sleeps to that list of films.
Summer of 2011
A big summer for myself personally, as I've just become a new homeowner. Alas, with more responsibility comes less disposable income! Therefore, less movies being seen. However, just like Christmas movies, a good "summer" movie can get you into the (Summer) Holiday spirit.
Here are some favourites that I like to revisit every summer that provide me a little sunshine.
THE FLAMINGO KID (1984) / ADVENTURELAND (2009)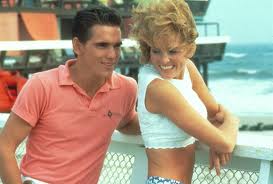 What better way to learn about life than your first job. And what a better time for your first job than during summer break from school. Sometimes you get lucky and nab a dream summer job as a Cabana Boy (well, my dream anyway!) in a swanky club. Or you end up at some run down amusement park because you have no other options. Either way, it's all a part of the journey of growing up.
"There are only 2 important things in living. Finding out what you do well, and finding out what makes you happy. If God is smiling on you, they're both the same thing." – Arthur Willis (Hector Elizondo) to his son Jeffery (Matt Dillon) in The Flamingo Kid.
NATIONAL LAMPOON'S VACATION (1983) / SUMMER RENTAL (1985)
Road trips. A day at the beach. When I don't have the time or money to experience these summer staples I live vicariously through the Griswolds and the Chesters. My road trips have never been as crazy as Chevy Chase's but I certainly can identify with John Candy's frustration over finding a spot on a crowded beach.
DO THE RIGHT THING (1989)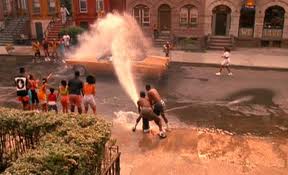 Actually, I steered clear of this one this year. I didn't need to be reminded of the heat wave we were having this year by watching Spike Lee's Brooklyn slice of life on the hottest day of the year. Although I could have cooled myself off with a fire hydrant.
POINT BREAK (1991) / THE FAST & THE FURIOUS (2001)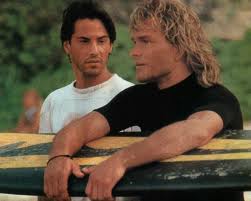 Now here are some good ol' summertime no brainers. You'll find no Super heroes or Vampires here, brah. Just a cool buzz and some tasty waves from Point Break, along with one badass with great hair. I'm talking about Gary Busey, not Patrick Swayze. As for F&F, you get sweaty men, sweatier women, hot cars, fast chicks, Vin Diesel's biceps and Paul Walker's frosted tips. Do you need more? As Diesel puts it to Walker in the film: "You didn't have me. You didn't have your car!" I still have no idea what this means, but if I don't have these flicks, I don't have my summer!
Side note: I'm still trying to figure out who's the tougher bitch: Lori Petty or Michelle Rodriguez?
(500) DAYS OF SUMMER (2009)
Maybe the one thing that can teach you more about life than your first job is a summer romance. Especially one as frustrating as Tom and Summer's. Sometimes, the outcome of a relationship isn't what's important, but rather the time spent together. I love to spend time with Tom and Summer in this wonderful romantic dramedy.
MAMMA MIA! (2008)
Now here's a movie that makes me feel like I'm on vacation! What I like to do is turn up the heat in my place, put on my bathing suit and drink a margarita while I sit back and enjoy the view of the gorgeous Greek Islands. Unfortunately, I have yet to figure out what to do about Pierce Brosnan's singing.
THE BAD NEWS BEARS (1976)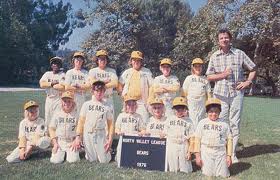 Baseball is about as synonymous with summer as the beach is. The Bad News Bears captures all the sights and sounds of little league baseball. From the sound of that aluminum bat to the sound of the parents screaming. If you ever wanted to know what makes this movie stand the test of time despite all the "worst to first" sports movie rip-offs over the years, take a look at the end of the picture of the team that's smiling... Then look at the team that won.
Exactly.
SUMMER SCHOOL (1987)
I never went to summer school, but if I did, I sure would have loved to been enrolled in Mr. Shoop's class, especially if I got to sit next to Anna-Maria or talk about movies with Dave and Chainsaw.
THE GOONIES (1985)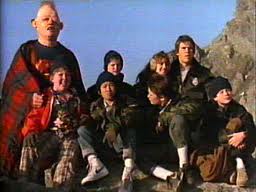 I had a craving for this film after I had seen this summer's Super 8. Youthful nostalgia and the summer seem to go hand in hand. The weather in the summer is less restricting that it is in other seasons. Sunshine and warm weather is much more freeing and liberating than snow and rain. Perhaps this is the genesis of the youthful freedom I get in the summer. Even if it's as simple as the weather, the summer does make me feel like a kid again and I often have a yearning to watch movies from my childhood during this season, such as the "Indiana Jones for kids" classic The Goonies.
Dear Hollywood, please don't mess with my childhood. I beg you. DO NOT REMAKE THIS MOVIE!
There are many other great summertime movies out there. If you have any you'd wish to share with us feel free to list them below.
Tags: Walkey Talk, Ghostbusters, Gremlins, My Girl, Jurassic Park, Speed, Adventureland, (500) Days of Summer, summer movies
Related Posts
Search SBM Archives