(Not Quite All) The Most Anticipated Films of 2012
Filed under: Special Coverage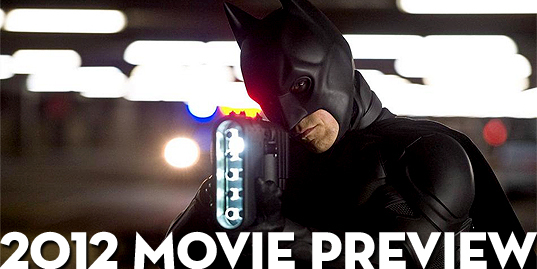 The big idea was to feature some of the more highly-anticipated movies from the 2012 film slate -- of which there are many -- however, I'll admit: a couple clunkers still managed to sneak their way in. But overall, I feel like there is a little something for everybody on this list. In no particular order...
Argo (dir: Ben Affleck)
After this movie, director/star Ben Affleck will be a Canadian hero. It is nice to see the former star of Armageddon making a film that's patriotism leans a bit more northern. Argo tells the true story of a 1980 attempt by the Canadian government to rescue 6 American Diplomats -- hostages -- being held in Tehran. Their plan: disguise themselves as a film crew scouting locations for a fake movie in Iran, titled Argo. The cast includes Alan Arkin, John Goodman, Bryan Cranston, Michael Parks, and of course Benji Affleck too! I liked The Town, but it did not come close to hitting the heights that his first directorial effort Gone Baby Gone hit. Apparently Argo's tone is to be more lighthearted and comedic than his first two films, which leads me to believe Affleck is hoping for a bigger box office hit this time around. And for that, I cannot fault the guy. The path his career has taken only proves that famous rule: Never underestimate an Affleck.
Fun Fact: John Goodman and Michael Parks recently collaborated on Kevin Smith's Red State. I highly recommend watching it.
Looper (dir: Rian Johnson)
Rian Johnson, the mad-genius who made Brick and The Brothers Bloom, comes back with a time travel movie that will hopefully be much better than Timecop. Joseph Gordon-Levitt and Bruce Willis play the young/old versions of the same character, a looper, a hit man who kills people sent back in time from the future. The catch? Eventually, one of those victims will be his future self. Cue dramatic music. The screenplay leaked online in 2011 and if early indications are accurate, to quote Madman Mundt: "This could be a pip."
Fun Fact: Rian Johnson initially wrote Brick as a Dashiell Hammett-type novel before re-writing it as a screenplay.
The Master (dir: Paul Thomas Anderson)
Paul Thomas Anderson's alleged take on the birth of an unnamed religion (Scientology?) stars Philip Seymour Hoffman and Joaquin Phoenix in a strained mentor/protégé relationship. I have tried my hardest to remain spoiler-free on this one. Very little information is available yet, but the script was leaked online last year (unread by me), so if you know the proper channels, hunt that sucker down. You already know the important detail: PT Anderson is making a new movie. He made Boogie Nights and There Will Be Blood. Now, go get excited.
Fun Fact: PT Anderson is married to that 2nd broad from Bridesmaids. They even have kids together. I'm seriously serious!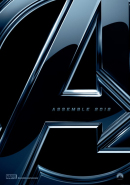 The Avengers is truly a film that will make history. This is the first time that several already successful film franchises are being combined into one project that could potentially FAIL ON A MASSIVE LEVEL. Another historical point: if The Avengers does indeed fail at the box office, it will kill the hopes of between 12 to 16 follow-up films that Marvel Studios already has greedily planned. Why so negative? Well, the first doubts bubbled to the surface when Mark Ruffalo was booed at Comic-Con as he was introduced as the new Hulk. Everybody at Comic-Con is supposed to love the Hulk. What the heck, people? But Joss Whedon in the director's chair feels like a perfect match of artist and material. This could be a landmark in the history of geek culture. Or, it could end up a studio-fixed lump of crap. Keep in mind, this film's budget could be as high as $260 million. They need to do Avatar or at least The Dark Knight money to break even and trust me, True Believers, that's no easy task to accomplish.
Fun Fact: 'True Believers' is a Stan Lee reference.
Moonrise Kingdom (dir: Wes Anderson)
Let me list a few names for ya... Wes Anderson. Jason Schwartzman. No surprises there. Tilda Swinton. Edward Norton. Harvey Keitel. Frances McDormand. Oh, cool. Bruce Willis. Seriously? Yes, seriously. Bruce Willis and Wes Anderson are working together. If that doesn't at least pique your curiosity, I don't know what will. Set in the 1960's, Moonrise Kingdom follows two youths who, after falling in love, take off into the woods together. Their families and friends react by starting a manhunt to track down their runaway loved ones. Co-written by Anderson and Roman Coppola (who previously collaborated on The Darjeeling Limited) while Anderson was waist-deep in the long animation process of The Fantastic Mr. Fox; this one has been on the page for a while now and frankly, I can't wait for it to get on screen. Again, it's a freakin' new Wes Anderson movie... Go get excited, you silly goose!
Fun Fact: Check out the credits of The Life Aquatic with Steve Zissou to see The Jacques Cousteau Society's oddly-worded credit. Truly one of the strangest I've ever seen. Hint: Wes Anderson and Touchtone Pictures almost got themselves sued.
The first film seemed like a pointless cash grab. The second one is just a pointless cash grab. Let's get a dozen big-time action stars (fading stars in most cases) and throw 'em all into one big violent extravaganza -- it'll make a bundle! And it did. Second time around, we have lost Sylvester Stallone as director (that may not actually be a LOSS) but we have gained Simon West (Con Air, which is way better than it should have been) and Jean-Claude Van Damme (no, we wasn't in the first one -- I checked). This is shaping up to be either the most insane, stupid, and over-the-top action movie ever made OR something that was pushed from something else's sphincter. Hard to say.
Fun Fact: That famous story about Stallone saying, "Cup the balls..." Probably not true. Sorry, kids.
This Is 40 (dir: Judd Apatow)
Judd Apatow returns to the Paul Rudd and Leslie Mann characters from Knocked Up to examine what it's like to be forty. Seems like they nailed the title. With Melissa McCarthy, Megan Fox, and Albert Brooks rounding out the cast, my interest in this film simply will not wane. McCarthy is already considered comedy royalty in Hollywood after her star-making turn in Bridesmaids, and Albert Brooks' return to the mainstream spotlight with Drive is nothing but a good thing. Megan Fox will probably be playing Temptation Personified as is her role in cinema, so I'm not expecting anything groundbreaking from her (famous last words). What can I say? I have been so impressed with the creative development of Apatow's career over the past decade. His most recent, Funny People, was not very well-received, but I still feel it is -- by far -- his best film. He is wise to gravitate away from the "Line-o-rama" jokey-type filmmaking to concentrate on more emotional and character-based work. And if we're lucky, maybe Albert Brooks will stab somebody! (It's a Drive reference, people!)
Fun Fact: Judd Apatow has re-tweeted three of my tweets. No big deal.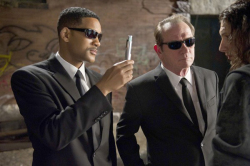 I was totally against this movie until I saw the trailer. I'll admit, that concept is slightly intriguing. But let's be honest: the first film doesn't totally hold up upon repeated viewing, and the second has been classified as a war atrocity (mainly because it sullied the fine career of Rosario Dawson), so my initial response is, "nay". Remember, Barry Sonnenfeld's only true good movie (Get Shorty) was based on such a fantastic combination of novel and screenplay that you could argue nobody could have screwed up that one. On the other hand, Sonnenfeld was the cinematographer on such classics as Miller's Crossing, Blood Simple, Throw Mama from the Train, When Harry Met Sally, Big, and my favorite comedy of all time, Raising Arizona -- so I am truly pulling for him to make a comeback. Even if it has to be with this completely unnecessary project (that will probably suck).
Fun Fact: Tommy Lee Jones got naked and covered in gold paint in JFK. Remember that?
It is very hard to tell with this one. On one hand, I love Borat and Bruno for their sheer comedic brilliance, but those films lacked any true emotional connection to their characters, a cardinal sin in filmmaking. I'll admit, not every comedy needs to deliver an emotional payoff (see Terry Zwigoff's wonderful Ghost World). This issue has been a problem for Sasha Baron Cohen since Ali G in Da House, a movie that has big laughs but little to no plot/character development. But Da Ali G Show itself still holds up as a psychotically hilarious high-watermark for TV, unchallenged to this day. The premise for The Dictator (according to Wikipedia, it "tells the heroic story of a dictator who risked his life to ensure that democracy would never come to the country he so lovingly oppressed") sounds pretty funny, so here's hopin'!
Fun Fact: The Dictator cannot and will not be as dark, funny, and brilliant as the Chris Morris film Four Lions which, if you haven't seen, you should self-flagellate yourself like those dudes in Songs from the Second Floor. Um, spoiler alert?
Inside Llewyn Davis (dir: The Coen Brothers)
The Coen Brothers have been involved in an increasing number of book adaptations in the last few years, so to find out that they have a new flick based on an original screenplay thrills me. Don't get me wrong: I loved No Country for Old Men and True Grit, but the Coens have such a unique voice with regards to screenwriting that I tend to gravitate more towards their own brain-spun stories. Set in the 1960s in New York, the story follows two competing folk singers played by Oscar Isaac (Drive) and Justin Timberlake. Yep, JT is in the new Coen Brothers movie. But you also get the delightful Carey Mulligan, who is quickly becoming one of the best actresses around (also look for her in Baz Luhrmann's The Great Gatsby, not featured on this list). The Coen Brothers returning to the musical genre (you recall O Brother, Where Art Thou?) can only be a very good thing.
Fun Fact: The Coen Brothers both share the same parents.
Tim Burton is undoubtedly the most frustrating director of his generation. This guy made Beetlejuice, Batman Returns, and Pee Wee's Big Adventure. And that was before he made Ed Wood, one of most underrated/watched comedies of the 90s. The gleaming promise he started his career with lead to, um... Planet of the Apes and Alice in Wonderland. Kind of a let down. From the looks of the early stills, Dark Shadows is more in the Ed Wood camp than the Apes camp. And Mrs. Burton herself, Helena Bonham Carter, has publicly stated that the film is downright weird -- to the point of being "almost unsellable'" -- which for me is a big selling point. Fingers are tightly crossed on this one.
Fun Fact: "Lost my pearlies in the war!" - Ed Wood
Seven Psychopaths (dir: Martin McDonagh)
Martin McDonagh blew my mind with his feature debut film In Bruges, and from the looks of Seven Psychopaths, my mind shall be blown once again. Colin Farrell and Sam Rockwell play a pair of down and out losers who erroneously steal a villainous gangster's dog. Violence and comedy are McDonagh's métier, and with the cast including Woody Herrellson, Tom Waits, Olga Kurylenko, and Christopher Walken (reuniting with McDonagh after his hit stage play, "A Behanding in Spokane"), my anticipation could not be higher.
Fun Fact: McDonagh's Oscar-winning short film Six Shooter is illegally available online. I would never recommend you bootleg this jaw-droppingly amazing 30-minute action comedy, because downloading movie torrents is just plain wrong. How was that? Did that sound convincing?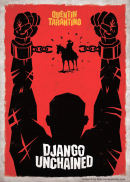 Django Unchained (dir: Quentin Tarantino)
Quentin Tarantino returns to his Inglourious Basterds formula in his first true western, another revenge tale (this time it's the slaves who get back at their masters) which follows an escaped slave (Jamie Foxx) who befriends a German bounty hunter (Christoph Waltz). I know I'm supposed to say I hate Tarantino because he isn't hip anymore, right? "Deathproof sucked," right? Whatever, Cool Guy. I was e-mailed this script almost 7 months ago, and have had to violently resist the urge to read it. Seriously... I cannot wait to see this flick and will be first in line to do so. BAAM!
Fun Fact: Still want me to be cynical? Oh all right, fine, Mr. Hipster: "I wonder what retro needle-drop Quentin'll ironically juxtapose against the inevitable cotton picking sequence..." There -- ya happy?
World War Z (dir: Marc Forster)
Brad Pitt stars in this adaptation of Max Brooks' celebrated graphic novel, and you can't ask for much more than that. Judging from the still images I've seen, this looks like an epic-scale production. The vastness of the shots I've seen truly impressed this bitter old Scotsman. My only qualm is that director Marc Forster's resume is more than a little hit and miss (Quantum of Solace... Stranger Than Fiction... yes, that's right, I loathed that "clever" little Will Ferrell movie). But he does have a visual flair that could work great with a zombie apocalypse, so once again, I'm pulling the "Benefit of the Doubt" card.
Fun Fact: Matthew Fox is in it. He played Jack on Lost! Smiley-face.
Skyfall (dir: Sam Mendes)
Casino Royale worked for me, but Quantum of Solace reeeeeeally did not. Regardless, this will be Sam Mendes' first action film since Road to Perdition (c'mon, it was kind of an action film...), and the sheer perversity of following up his chilly-as-ice-weep-fest Revolutionary Road with a James Bond movie fills me with a sick, cinematic glee. But as we know: All James Bond Movies Are Not Made Equal. Oscar winner Javier Bardem (he won for his portrayal of the ultimate bad guy in No Country for Old Men) has been cast as the baddie, which sounds good on paper but proves that in Hollywood, if you do something well, they will ask you to do the same thing again. And again. And again.
Fun Fact: Daniel Craig allegedly made a cuckold of a very famous and acclaimed director, whose now ex Rachel Weisz "co-starred" with Craig in the cinematic dog pile, Dream House. Ouch. On both accounts.
Many people will come out on opening weekend and say that this film sucks. They will scream at the top of their lungs that Christopher Nolan finally dropped the ball. And they'll be justified even if they're wrong. As great as Tom Hardy and Anne Hathaway can be, they will never attain the cult following that Heath Ledger's performance as The Joker elicited. And they simply can't. They'd have to tragically die and leave behind a famous and rather comely Baby Mama. And they'd still have to have given a brilliant, legendary and haunting performance. And then die.
Fun Fact: I got a chance to see the 8-minute opening in IMAX and was slightly underwhelmed. I'll give Nolan the benefit of the doubt. I initially (and embarrassingly) turned up my nose when I heard that Heath Ledger was cast in The Dark Knight. To quote Chuck Berry, "Ya never can tell."
Cogan's Trade (dir: Andrew Dominick)
Andrew Dominick is batting 1.000 in my books. His films Chopper and The Assassination of Jesse James by the Coward Robert Ford stand tall as hauntingly brutal masterpieces of lives lost to crime. His films drip with humanity. Hopefully this one will, too. The (vague) plot involves a hitman's associate (Brad Pitt) and the recovery of stolen mob money. Early word reveals it will be more of a violent action-comedy than a straight crime drama, which doesn't surprise me. Chopper is one of the funniest violent films released since Goodfellas. And Pitt was near-perfect as Jesse James. With Mr. Dominick, we're in good hands.
Fun Fact: Please tell me you have seen both of Dominick's other movies... WHAT? You haven't? Well, go watch 'em right now. I'll wait... *begins playing with phone*
And that's it, folks! You might be asking: where are The Hobbit and Prometheus? What about Lincoln and Brave? Sounds like you've already heard of those movies, so what the heck do you need me for? Just kidding. 2012 could potentially be one of the best movie years in recent memory. I mean, we get new films from PT Anderson, Wes Anderson, Christopher Nolan, Andrew Dominick, The Coen Brothers, Judd Apatow, Tim Burton, and Quentin Tarantino. Obviously, I hope they're all fantastic, but we'll just have to wait and see.
Tags: Preview, 2012 films, Argo, The Avengers, This Is 40, Moonrise Kingdom, Dark Shadows, World War Z, Skyfall, The Dark Knight Rises
Related Posts
Tony Hinds is a Canadian writer who studied film at the University of Winnipeg. In addition to ShowbizMonkeys.com, Tony has reviewed films for Step On Magazine and The Uniter. You can find Tony on Twitter.
Search SBM Archives