Oscar Talk: Artistic Triumph (Mike Walkey's 84th Academy Award Highlights)
Filed under: Walkey Talk
Meryl Streep won her first Oscar the year I was born. She won her second three years later, then proceeded to rack up more nominations than any living actor, cementing her reputation as greatest ever. I'm sure people see her at these shows and think, "Oh, not her again!" But realistically, for someone that everyone believes wins every award, Meryl Streep has only won two Oscars and hasn't been on the stage in 30 years!
Last night I saw something that I've only seen in those Academy Award historical montages: I saw Meryl Streep win. I've been a fan my whole life, and was too young to remember the previous accolades, so last night watching The Iron Lady give her acceptance speech was my favourite moment in an otherwise routine evening.
Streep was the early favourite, but had lost momentum to Viola Davis in recent weeks, so I was pleasantly surprised -- as was the audience who celebrated jubilantly with her.
The rest of the evening wasn't as spontaneous, however. As expected, The Artist and Hugo duked it out, both ending up with five trophies apiece. But it was The Artist who was named the Best Picture of the year. The show as a whole was fine, but lacked memorable moments. I even struggled to put together a highlight list for this article! Billy Crystal brought out his usual shtick: inserting himself into clips of the year's movies in the opening montage, singing the medley of nominated movies, and his typical vaudeville humour. Because of The Artist and Hugo, the main theme of the evening was "Old Hollywood", but I didn't realize that meant recycling old jokes, too!
But whatever, nobody in Hollywood will complain about Billy Crystal. He's like your old uncle telling corny jokes at Christmastime. It's just a tradition you let go. Overall it was a safe, routine, and ordinary show. I don't have anything bad to say but not much good either. In all honesty, it'll get a free pass coming after the poor James Franco/Anne Hathaway debacle.
Oscar Show Highlights
0:00 - The show hasn't even begun but I have my pick for tonight's Best Dressed: Penelope Cruz.
0:01 - Morgan Freeman kicks things off with a short but (what else? -- it's Morgan Freeman!) eloquent introduction to tonight's theme: "celebrating the present and looking back at its glorious past". Question: Has anyone found out why Morgan Freeman has been wearing that glove as of late?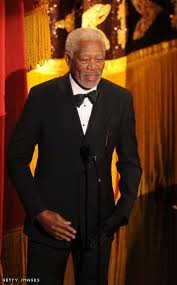 0:03 – Opening montage of host Billy Crystal inserting himself into movies from the past year. Favourite Bit: Justin Bieber shows up to help get the 18-24 demographic. Billy's gonna need the help!
0:06 – Dressed like Fred Astaire, Billy takes the stage for his ninth time. After taking a jab at Kodak (whose theatre plays host to the ceremony) filing for bankruptcy ("Tonight we're at the Chapter 11 Theatre"), Crystal kicks into his traditional song and dance number: "It's a wonderful night for Oscar..." I've always loved this part of Billy's repertoire, but this year they had to cram nine movies into the song so less time was spent on each nominee and the results suffered. Favourite Bit: "What's it mean, Malik?" Billy's ode to director Terrence Malik's mystical opus The Tree of Life, which had many people who saw the film asking the same question.
0:11 – This year's set is a beautiful old movie house marquee, as Tom Hanks comes out to present the first two awards of the night and has a great tip of the hat to Carl the seat filler. Hugo gets off to a fast start, picking up Cinematography and Art Direction.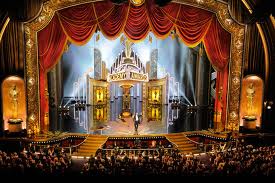 0:16 – First commercial break as the camera swoops up. Question: What's with that awkward band up in the balcony?
0:24 – And the award for Best Cleavage goes to Jennifer Lopez. The Artist picks up its first award of the night for Costume Design. Then The Iron Lady is a surprise winner for Best Make Up, showing that there's support out there for the film, which may come into play for the tightly contested Best Actress race.
0:29 – The first of several great montages of various stars sharing their movie-going experiences. This one has stars ranging from Adam Sandler to Barbara Streisand talking about the first movies they ever saw.
0:41 – The first standing ovation of the night goes to Supporting Actress winner Octavia Spencer of The Help, who has one of the better lines of the night: "Thank you Academy for putting me with the hottest guy in the room!"
0:49 – The bit about a Focus Group watching The Wizard of Oz get me excited when I see Christopher Guest and his Best in Show troupe were the Focus Group. Unfortunately, it wasn't as funny as it should have been, save for Fred Willard and his flying monkey obsession.
0:53 – Wow, The Girl with the Dragon Tattoo wins Best Editing in an upset! For those who care, Best Editing often goes to the Best Picture, which would have made The Artist or Hugo the favourites. Dragon Tattoo wasn't even nominated in that category.
0:58 – Hugo racks up two more trophies (Sound and Sound Mixing), raising its total to four.
1:05 – Cirque du Soleil's elaborate homage to classic cinema is surprisingly well done. But someone should have warned Meryl Streep and Sandra Bullock about it. Awkward!
1:11 – Robert Downey Jr.'s bit about making a faux documentary was amusing, if a bit long. Though I did like him "Tebowing" before he came out.
1:13 – Documentarians TJ Martin, Dan Lindsay, and Rich Middlemas accept their award for Undefeated and drop the first F-Bomb of the night. They're also the first to go the distance and have their speech cut off.
1:15 – Chris Rock provides a much-needed jolt and some of the best material of the night about how easy animation work is. "And they pay me a million dollars!"
1:22 – After I got past the distraction that was Emma Stone's dress, I actually appreciated her over enthusiasm about being at the Oscars for the first time. But the biggest laugh came from Jonah Hill who told her to "cut it out". Hugo picks up its fifth and final award of the night for Visual Effects.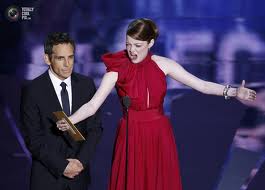 1:31 – Christopher Plummer becomes the oldest actor ever to win an Oscar at 82 years young. A standing ovation was given to the octogenarian, who provided perhaps the classiest speech of the night.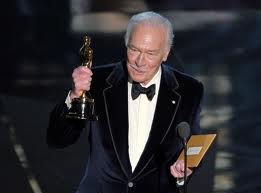 1:38 – Billy Crystal does his "What are they thinking" bit, yet again. Not as funny this time around, but I did enjoy him teasing Martin Scorsese. And I think it's time we lay off of Nick Nolte.
1:44 – Is it really fair that The Artist won for Best Score? The whole movie is music. There's no dialogue!
1:55 – Thank you Angelina and Jim Rash. At least some people are having fun.
Question: Doesn't The Descendants' writer/director Alexander Payne look like Winnipeg Jets head coach Claude Noel?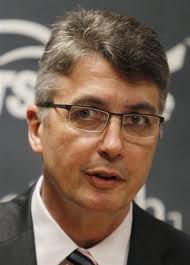 2:06 – And this year's hot babe who handed out the Scientific and Technical awards to dudes who aren't interesting enough to be on the actual show is: Mila Jovovich.
2:08 – The Bridesmaids come out to present the short film awards and in typical award show banter, proceed to make penis jokes about size. But it was nice to see them continue the Scorsese drinking game they started at the SAG Awards. Not as many people got the joke, unfortunately.
2:19 – Michael Douglas presents this year's Best Director award. It's customary for last year's Best Director to present to this year's. Though they would never admit it, it's also very common for The Academy to nix the tradition when the director is not a big name. This may explain why last year's Best Director, Tom Hooper is not presenting. Congratulations Michel Hazanavicius, director of The Artist, but the odds are not in your favour for being invited back next year.
2:45 – Jean Dujardin of The Artist wins Best Actor, but all I could think was: How cool are Gary Oldman's glasses?!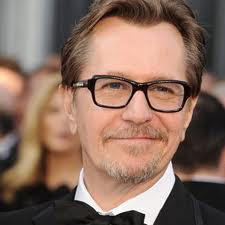 2:56 – After a record fifteen losses, Meryl Streep wins her third Oscar.
3:05 – Smile! Tom Cruise awards Best Picture to The Artist.
Final Score: The Artist – 5, Hugo – 5, The Iron Lady – 2, everybody else – 6
And if you said the broadcast would finish in under three and a half hours, then you win!
Final Question: Where the hell was Sacha Baron Cohen?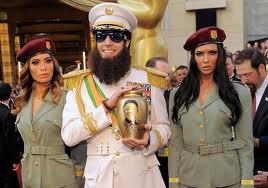 See you next year!
Tags: Oscars, 84th Academy Awards, awards shows, Meryl Streep, The Artist, Hugo, Billy Crystal, Jean Dujardin
Related Posts
Search SBM Archives