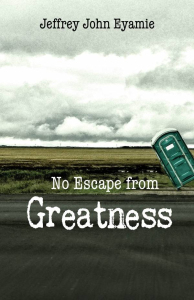 Jeffrey John Eyamie releases debut novel 'No Escape from Greatness' and accompanying short film
Screenwriter Jeffrey John Eyamie -- who recently had his television pilot Split Level accepted by the National Screen Institute's Totally Television program, and has worked in the writer's room of the critically-acclaimed HBO Canada show Less than Kind -- is embarking on new territory this week. Eyamie releases his first novel, No Escape from Greatness (from Turnstone Press), this Thursday, March 24.
A riches-to-rags story, No Escape from Greatness follows Gabriel Pegg as he falls from atop of the entertainment biz all the way to smalltown Greatness, Manitoba, where he's not only escaping the law but unwittingly becoming a six-days-a-week guardian to his 11-year-old daughter.
No doubt at least geographically inspired by Eyamie's own childhood catching gophers in Virden, Manitoba, No Escape from Greatness is a comedic tale. Before even reading a page of the book, one could glean this from the trailer.
But wait -- why is there a trailer for a novel? Well as mentioned above, Jeffrey John Eyamie is also a screenwriter, and so naturally he's put together a short film to accompany the book's release. Featuring Ross McMillan (Less Than Kind, The Saddest Music in the World) and Aaron Merke (House Party, Video on Trial) amongst others, the hilarious short film will be released at the same time as the novel. How's that for cross-media marketing?
Eyamie has three book launch and signing events coming up across Canada, all of which will include a screening of the accompanying short film. The official No Escape from Greatness launch is in his hometown of Winnipeg on Thursday, March 24 at 7pm at McNally Robinson. He then heads west to Calgary, visiting Owl's Nest Books on Thursday, March 31 at 7pm. Finally, he'll be at Octopus Books in Ottawa on Tuesday, April 12 at 6pm.
Oh yes, and we know how much ShowbizMonkeys.com visitors love giveaways. Enter to win your own copy right here!
No Escape from Greatness is available from Turnstone Press on Thursday, March 24 (get it directly from Turnstone or via Amazon.ca). You can find and follow Jeffrey John Eyamie on Facebook and Twitter.
Tags: Jeffrey John Eyamie, No Escape from Greatness, Manitoba, short film, Less Than Kind, novel, comedy
Related Posts
Paul Little is the founder and Managing Editor of ShowbizMonkeys.com. When not interviewing his favourite musicians and comedians, he can also be found putting on and promoting music and comedy events with The Purple Room in Winnipeg, or co-producing the live comedy game shows Pants on Fire and The Great Patio Showdown. (@comedygeek)
Search SBM Archives