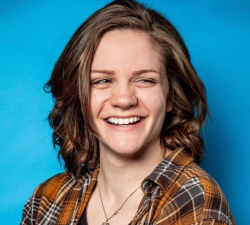 Punch Up Your Life - Jazz Hands of Justice (Jessica Buchanan)
Filed under: Punch Up Your Life
Jessica Buchanan: When Jessica's school is threatened to be shut down, she is forced to commit social suicide, and admit that she cares about something.
Download the Podcast Episode (right click/save as)
Listen Now:

Andrew Lizotte invites comedians to come pitch their lives, as giant Hollywood Blockbusters! ....That said, Andrew does have some "Notes". It's part in-depth interview, part improvised radio play, 100% the most profitable thing you've ever heard!
Tags: Punch Up Your Life, Andrew Lizotte, Biopic, Movie Pitch, Improv, Documentary, Comedians, Punch Up, Screenwriting, Jessica Buchanan
Related Posts
Search SBM Archives