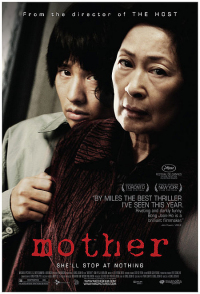 Mother (2010)
| | |
| --- | --- |
| Release | March 12, 2010 (Limited) |
| Cast | Bin Won, Ku Jin, Hye-ja Kim |
| Director | Bong Joon-ho |
| Writer | Bong Joon-ho |
| Genres | Drama, Family, Thriller |
| Studio | Mongrel Media |
| Length | 128 mins. |
| Website | Mother2009.co.kr |
Synopsis
Hye-ja is a single mom to 27-year-old Do-joon. Her son is her raison d'etre. Though an adult in years, Do-joon is naive and dependent on his mother, and a constant source of anxiety, often behaving in ways that are foolish or simply dangerous.
Walking home alone one night down a nearly empty city street, he encounters a young girl who he follows for a while before she disappears into a dark alley. The next morning, she is found dead in an abandoned building and Do-joon is accused of her murder.
Thanks to an inefficient lawyer and an apathetic police force, Do-joon's case is quickly closed, but his mother refuses to let this be the end of the story. Trusting no one, Hye-ja's maternal instincts kick into overdrive, and she sets out to find the girl's killer and prove her son's innocence.
Movie Releases by Year
2024 • 2023 • 2022 • 2021 • 2020 • 2019 • 2018 • 2017 • 2016 • 2015 • 2014 • 2013 • 2012 • 2011 • 2010 • 2009 • 2008 • 2007 • 2006 • 2005 • 2004
Search SBM Archives