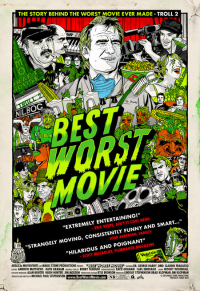 Best Worst Movie
| | |
| --- | --- |
| Release | May 14, 2010 (Limited) |
| Cast | George Hardy, Michael Stephenson, Darren Ewing, Jason Steadman, Jason Wright |
| Director | Michael Stephenson |
| Writer | Michael Stephenson |
| Genres | Documentary |
| Studio | Magic Stone Productions |
| Length | 93 mins. |
| Website | BestWorstMovie.com |
Synopsis
A look at the making of the film "Troll 2" and its journey from being crowned the 'worst film of all time' to a cherished cult classic.
In "Best Worst Movie" Michael Paul Stephenson makes his directorial debut by exploring one of the worst and most critically panned movies ever made, Troll 2, which he starred in twenty years ago as a child.
In 1989, Italian director, Claudio Fragrasso cast small-town dentist Dr. George Hardy and a group of unwitting Utah actors in the ultra-low budget horror film, Troll 2. Soon after its disastrous release, Dr. Hardy retired from his short-lived acting career and returned to dentistry in his hometown of Alabama, unaware of the legions of fans that would one day recognize him as a cult movie luminary.
"Best Worst Movie" reveals the improbable heartfelt story of an Alabama dentist-turned-cult-movie icon and an Italian filmmaker as they come to terms with their internationally revered cinematic failure.
Movie Releases by Year
2024 • 2023 • 2022 • 2021 • 2020 • 2019 • 2018 • 2017 • 2016 • 2015 • 2014 • 2013 • 2012 • 2011 • 2010 • 2009 • 2008 • 2007 • 2006 • 2005 • 2004
Search SBM Archives