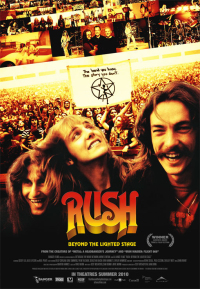 Rush: Beyond the Lighted Stage
| | |
| --- | --- |
| Release | June 10, 2010 (Limited) |
| Cast | Geddy Lee, Alex Lifeson, Neil Peart |
| Director | Sam Dunn, Scot McFadyen |
| Writer | Scot McFadyen, Sam Dunn, Mike Munn |
| Genres | Documentary |
| Studio | Alliance Films |
| Length | 106 mins. |
Synopsis
Amazing as it may seem, Rush trails only The Beatles, The Rolling Stones and Aerosmith for the most consecutive gold or platinum albums by a rock band. The band has sold more than 40 million records worldwide and garnered untold legions of devoted and admiring fans.
From the producers who brought us the hugely successful Iron Maiden's Flight 666, their new film features never-before-seen archival footage and interviews with notables such as Jack Black, Billy Corgan, Trent Reznor, Taylor Hawkins (Foo Fighters), Kirk Hammett (Metallica) and Gene Simmons, this film explores the forty-year career and phenomenon behind what could be the world's biggest cult band.
Directors Sam Dunn and Scot McFadyen embark on a comprehensive exploration of this extraordinary power trio, from their early days in Toronto, through each of their landmark albums, to the present day.
Movie Releases by Year
2024 • 2023 • 2022 • 2021 • 2020 • 2019 • 2018 • 2017 • 2016 • 2015 • 2014 • 2013 • 2012 • 2011 • 2010 • 2009 • 2008 • 2007 • 2006 • 2005 • 2004
Search SBM Archives