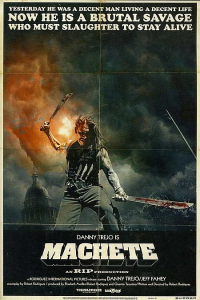 Machete
| | |
| --- | --- |
| Release | September 3, 2010 (Wide) |
| Cast | Danny Trejo, Michelle Rodriguez, Jessica Alba, Robert De Niro, Lindsay Lohan, Steven Seagal, Cheech Marin |
| Director | Ethan Maniquis, Robert Rodriguez |
| Writer | Robert Rodriguez |
| Genres | Thriller, Action, Crime |
| Studio | 20th Century Fox |
| Length | 105 mins. |
| Website | VivaMachete.com |
Synopsis
Machete (Danny Trejo) is a renegade former "Mexican Federale." He roams the cities, towns, and streets of Texas looking for work after a shakedown from a drug lord called Torrez (Steven Segal).
Machete has a run-in with Michael Benz (Jeff Fahey), a local businessman and spin doctor, who tells Machete that McLaughlin (Robert De Niro), a corrupt senator, is sending hundreds of illegal immigrants out of the country and that he must be killed. Benz offers Machete $150,000 to kill McLaughlin.
"Machete" is based on the "fake" trailer in Robert Rodriguez's 2007 "Grindhouse," featuring Danny Trejo and Jeff Fahey reprising their original roles.
Related Posts
Movie Releases by Year
2024 • 2023 • 2022 • 2021 • 2020 • 2019 • 2018 • 2017 • 2016 • 2015 • 2014 • 2013 • 2012 • 2011 • 2010 • 2009 • 2008 • 2007 • 2006 • 2005 • 2004
Search SBM Archives