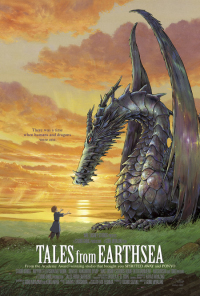 Tales from Earthsea
| | |
| --- | --- |
| Release | August 13, 2010 (Wide) |
| Voices | Timothy Dalton, Matt Levin, Willem Dafoe, Mariska Hargitay |
| Director | Goro Miyazaki |
| Writer | Goro Miyazaki, Keiko Niwa |
| Genres | Fantasy, Adventure, Animation |
| Studio | Walt Disney Pictures |
| Length | 115 mins. |
| Website | Ghibli.jp/Ged |
Synopsis
An adaptation of Ursula K. Le Guin's novel A Wizard of Earthsea, the first book of the award-winning Earthsea cycle which includes The Tombs of Atuan, The Farthest Shore and Tehanu.
Wizard of Earthsea centers on Ged, who was the greatest sorcerer in all Earthsea. He was once called Sparrowhawk, a reckless youth, hungry for power and knowledge, who tampered with long-held secrets and loosed a terrible shadow upon the world.
Something bizarre has come over the land. The kingdom is deteriorating. People are beginning to act strange... What's even more strange is that people are beginning to see dragons, which shouldn't enter the world of humans. Due to all these bizarre events, Ged, a wandering wizard, is investigating the cause. During his journey, he meets Prince Arren, a young distraught teenage boy. While Arren may look like a shy young teen, he has a severe dark side, which grants him strength, hatred, ruthlessness and has no mercy, especially when it comes to protecting Teru. For the witch Kumo this is a perfect opportunity. She can use the boy's "fears" against the very one who would help him, Ged.
Movie Releases by Year
2024 • 2023 • 2022 • 2021 • 2020 • 2019 • 2018 • 2017 • 2016 • 2015 • 2014 • 2013 • 2012 • 2011 • 2010 • 2009 • 2008 • 2007 • 2006 • 2005 • 2004
Search SBM Archives