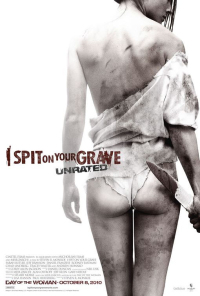 I Spit on Your Grave
| | |
| --- | --- |
| Release | October 8, 2010 (Limited) |
| Cast | Sarah Butler, Jeff Branson, Daniel Franzese, Rodney Eastman, Chad Lindberg, Tracey Walter, Andrew Howard |
| Director | Steven R. Monroe |
| Writer | Stuart Morse |
| Genres | Horror, Thriller |
| Studio | Anchor Bay Films/KinoSmith |
| Length | 107 mins. |
| Website | ISpitOnYourGraveMovie.com |
Synopsis
An unrated remake of the 1978 cult horror film that was praised by some as a feminist tract, reviled by others as exploitation, met with a firestorm of controversy that continues to this day.
A beautiful woman from the city, Jennifer Hills, rents an isolated cabin in the country to write her first novel.
Soon, a group of local lowlifes subject Jennifer to a nightmare of degradation, rape and violence. Left for dead, she returns for vengeance. Trapping her male attackers one by one, she inflicts acts of physical torment upon them with a ferocity that surpasses her own ordeal.
When the carnage clears, victim has become victor.
Movie Releases by Year
2024 • 2023 • 2022 • 2021 • 2020 • 2019 • 2018 • 2017 • 2016 • 2015 • 2014 • 2013 • 2012 • 2011 • 2010 • 2009 • 2008 • 2007 • 2006 • 2005 • 2004
Search SBM Archives