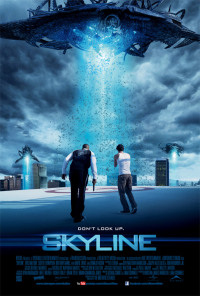 Skyline
| | |
| --- | --- |
| Release | November 12, 2010 (Wide) |
| Cast | Eric Balfour, Scottie Thompson, Brittany Daniel, David Zayas, Donald Faison |
| Director | Greg Strause, Colin Strause |
| Writer | Joshua Cordes, Liam O'Donnell |
| Genres | Thriller, Sci-Fi |
| Studio | Rogue Pictures/Universal Studios/Alliance Films |
| Length | 100 mins. |
| Website | IAmRogue.com/Skyline |
Synopsis
Jarrod (Eric Balfour) and Elaine's (Scottie Thompson) trip to Southern California was supposed to be a simple weekend away to visit Jarrod's best friend, Terry (Donald Faison), and Terry's girlfriend, Candice (Brittany Daniel), for his birthday.
But when sunrise arrives two hours early in the form of a haunting light from an unknown source, life as they know it is finished. As they watch in terror from Terry's penthouse windows, people across the city are drawn outside and swallowed into massive alien ships that have blotted out the L.A. skyline.
Now, it will take every survival instinct they have to elude capture from the thousands of monstrous creatures that are sweeping the city and searching for all humans in their path. From tankers to drones and hydra-like extraterrestrials, the aliens are inescapable and seemingly indestructible.
In the sci-fi thriller SKYLINE, the end of the world has come... and it's just outside your window.
Movie Releases by Year
2024 • 2023 • 2022 • 2021 • 2020 • 2019 • 2018 • 2017 • 2016 • 2015 • 2014 • 2013 • 2012 • 2011 • 2010 • 2009 • 2008 • 2007 • 2006 • 2005 • 2004
Search SBM Archives