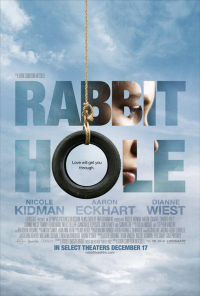 Rabbit Hole
| | |
| --- | --- |
| Release | December 17, 2010 (Limited) |
| Cast | Nicole Kidman, Aaron Eckhart, Sandra Oh, Jon Tenney, Dianne Wiest, Giancarlo Esposito, Tammy Blanchard |
| Director | John Cameron Mitchell |
| Writer | David Lindsay-Abaire |
| Genres | Drama |
| Studio | Lionsgate/Maple Pictures |
Synopsis
Becca and Howie Corbett (Nicole Kidman, Aaron Eckhart) are a happily married couple whose perfect world is forever changed when their young son, Danny, is killed by a car. Becca, an executive-turned-stay-at-home mother, tries to redefine her existence in a surreal landscape of well-meaning family and friends.
Becca's experiences lead her to find solace in a mysterious relationship with a troubled young comic-book artist, Jason—the teenage driver of the car that killed Danny. Becca's fixation with Jason pulls her away from memories of Danny, while Howie immerses himself in the past, seeking refuge in outsiders who offer him something Becca is unable to give. The Corbetts, both adrift, make surprising and dangerous choices as they choose a path that will determine their fate.
Based on the play by David Lindsay-Abaire.
Related Posts
Movie Releases by Year
2024 • 2023 • 2022 • 2021 • 2020 • 2019 • 2018 • 2017 • 2016 • 2015 • 2014 • 2013 • 2012 • 2011 • 2010 • 2009 • 2008 • 2007 • 2006 • 2005 • 2004
Search SBM Archives