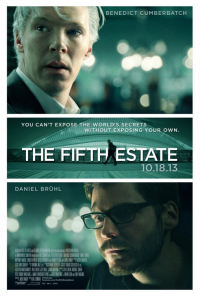 The Fifth Estate
| | |
| --- | --- |
| Release | October 18, 2013 (Wide) |
| Cast | Benedict Cumberbatch, Daniel Brühl, Carice van Houten, Dan Stevens, Alicia Vikander, Peter Capaldi |
| Director | Bill Condon |
| Writer | Daniel Domscheit-Berg, David Leigh, Luke Harding, Josh Singer |
| Genres | Drama |
| Studio | DreamWorks Pictures |
| Length | 124 mins. |
| Website | facebook.com/TheFifthEstateMovie‎ |
Synopsis
Tracing the early days of WikiLeaks, an international, online, non-profit organization that publishes secret information, news leaks, and classified media from anonymous sources. Founded by Julian Assange (Benedict Cumberbatch) with Daniel Domscheit-Berg (Daniel Brühl), the website quickly became famous for the release of a series of controversial and history-changing information leaks.
The website's overnight success brought instant fame to Julian and Daniel but as their power expanded across the globe, Daniel grew increasingly disillusioned with Julian's questionable tactics and ethics. The rift between the two friends became irreparable and their ideological differences tore them apart, but not before they had changed the flow of information to news media and the world at large.

Based on the book "Inside WikiLeaks: My Time with Julian Assange at the World's Most Dangerous Website" by Daniel Domscheit-Berg.
Movie Releases by Year
2024 • 2023 • 2022 • 2021 • 2020 • 2019 • 2018 • 2017 • 2016 • 2015 • 2014 • 2013 • 2012 • 2011 • 2010 • 2009 • 2008 • 2007 • 2006 • 2005 • 2004
Search SBM Archives