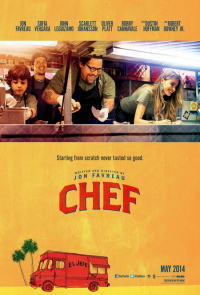 Chef
| | |
| --- | --- |
| Release | May 9, 2014 (Limited) |
| Cast | Jon Favreau, Sofia Vergara, John Leguizamo, Scarlett Johansson, Robert Downey Jr., Dustin Hoffman |
| Director | Jon Favreau |
| Writer | Jon Favreau |
| Genres | Comedy |
| Studio | Aldamisa/VVS Films |
| Length | 115 mins. |
| Website | Fb.com/ChefTheFilm |
Synopsis
Carl Casper (Jon Favreau), a skilled chef in a high-end Los Angeles restaurant, is bored by his job recreating the classics suggested by his controlling boss, restaurant owner Riva (Dustin Hoffman).
In a stinging review by a leading restaurant critic Ramsey Michel (Oliver Platt), Carl is called out for his lack of imagination. Introduced to Twitter by his tech-savvy son Percy (Emjay Anthony), Carl accidentally starts a flame war and loses his job.
Encouraged by his ex-wife Inez (Sofia Vergara) to start a Cuban food truck together with his son and his friend Martin (John Leguizamo), Carl takes to the road, hoping to reignite his creative genius.
Related Posts
Movie Releases by Year
2024 • 2023 • 2022 • 2021 • 2020 • 2019 • 2018 • 2017 • 2016 • 2015 • 2014 • 2013 • 2012 • 2011 • 2010 • 2009 • 2008 • 2007 • 2006 • 2005 • 2004
Search SBM Archives