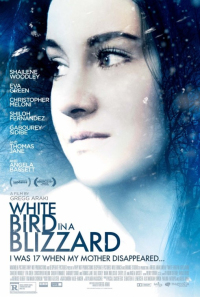 White Bird In A Blizzard
| | |
| --- | --- |
| Release | October 24, 2014 (Limited) |
| Cast | Shailene Woodley, Eva Green, Christopher Meloni, Shiloh Fernandez, Gabourey Sidibe, Thomas Jane, Angela Bassett |
| Director | Gregg Araki |
| Writer | Gregg Araki, Laura Kasischke |
| Genres | Thriller, Drama |
| Studio | Magnolia Pictures/Video Services Corp. |
| Length | 91 mins. |
| Website | MagPictures.com/WhiteBirdInABlizzard |
Synopsis
Kat Connors (Shailene Woodley) is 17 years old when her perfect homemaker mother, Eve (Eva Green), a beautiful, enigmatic, and haunted woman, disappears - just as Kat is discovering and relishing her newfound sexuality. Having lived for so long in a stifled, emotionally repressed household, she barely registers her mother's absence and certainly doesn't blame her doormat of a father, Brock (Christopher Meloni), for the loss. In fact, it's almost a relief.
But as time passes, Kat begins to come to grips with how deeply Eve's disappearance has affected her. Returning home on a break from college, she finds herself confronted with the truth about her mother's departure, and her own denial about the events surrounding it...

Based on the novel by Laura Kasischke.
Movie Releases by Year
2024 • 2023 • 2022 • 2021 • 2020 • 2019 • 2018 • 2017 • 2016 • 2015 • 2014 • 2013 • 2012 • 2011 • 2010 • 2009 • 2008 • 2007 • 2006 • 2005 • 2004
Search SBM Archives