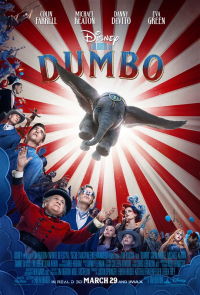 Dumbo
| | |
| --- | --- |
| Release | March 29, 2019 (Wide) |
| Cast | Colin Farrell, Michael Keaton, Danny DeVito, Eva Green, Alan Arkin |
| Director | Tim Burton |
| Writer | Ehren Kruger |
| Genres | Family |
| Studio | Walt Disney Pictures |
| Length | 130 mins. |
| Website | disney.com/Dumbo |
Synopsis
This live-action remake of the 1941 animated classic finds director Tim Burton at the helm of the story of Dumbo and his incredible ears.
Circus owner Max Medici (Danny Devito) enlists the help of former star and war veteran Holt Farrier (Colin Farrell) to take care of a newborn elephant with overd ears. Because of this defect, the elephant has become a laughing stock at the circus, which is already struggling to get by. Farrier brings along his children, Milly (Nico Parker) and Joe (Finley Hobbins). They soon discover this elephant has the ability to fly using his giant ears.
Seizing what he sees will be a profitable opportunity, Medici puts the elephant, dubbed Dumbo, in the show and attracts huge audiences, which lead to the circus making an incredible comeback. In the midst of all this success, entrepreneur V.A. Vandevere (Michael Keaton) recruits the talented elephant for his massive entertainment venture, which he calls Dreamland.
There, Dumbo reaches new levels of fame in his soaring performance alongside the charming aerial artist, Collette Marchant (Eva Green). Although all seems perfect, Holt soon learns Dreamland is host to many dark secrets.
Movie Releases by Year
2024 • 2023 • 2022 • 2021 • 2020 • 2019 • 2018 • 2017 • 2016 • 2015 • 2014 • 2013 • 2012 • 2011 • 2010 • 2009 • 2008 • 2007 • 2006 • 2005 • 2004
Search SBM Archives