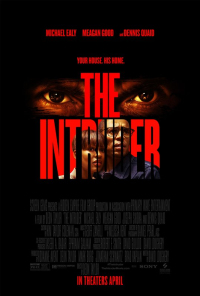 The Intruder
| | |
| --- | --- |
| Release | May 3, 2019 (Wide) |
| Cast | Dennis Quaid, Michael Ealy, Meagan Good |
| Director | Deon Taylor |
| Writer | David Loughery |
| Genres | Thriller |
| Studio | Screen Gems/Columbia Pictures |
| Length | 102 mins. |
| Website | TheIntruderMovie.com |
Synopsis
Young married couple Scott (Michael Ealy) and Annie Russell (Meagan Good) buy a beautiful Napa Valley house on several acres of land from an older gentleman named Charlie Peck (Dennis Quaid). He reveals that his great-great grandfather built the home and that he has lived in the house his entire life.
After they move in, they begin to get visits from Charlie, who tends to the lawn with the mower he left in the garage. He gets very angry when Scott makes a minor adjustment to the home. Scott learns from a local that Charlie's wife died after putting Charlie's shotgun in her mouth and pulling the trigger — at least, that's what Charlie claimed.
Scott soon realizes Charlie is attracted to Annie, and that he's mentally unstable. It becomes clear that the man plans to commit murder in order get his property back.
Movie Releases by Year
2024 • 2023 • 2022 • 2021 • 2020 • 2019 • 2018 • 2017 • 2016 • 2015 • 2014 • 2013 • 2012 • 2011 • 2010 • 2009 • 2008 • 2007 • 2006 • 2005 • 2004
Search SBM Archives