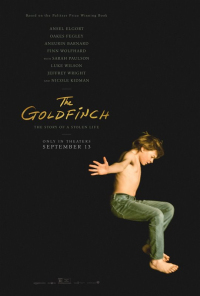 The Goldfinch
| | |
| --- | --- |
| Release | September 13, 2019 (Wide) |
| Cast | Ansel Elgort, Oakes Fegley, Nicole Kidman, Luke Wilson, Sarah Paulson, Finn Wolfhard, Aneurin Barnard, Jeffrey Wright, Luke Kleintank |
| Director | John Crowley |
| Writer | Peter Straughan |
| Genres | Drama |
| Studio | Warner Bros. Pictures |
| Length | 149 mins. |
| Website | TheGoldfinchMovie.com |
Synopsis
During a visit to the Metropolitan Museum of Art to see an exhibition of Dutch masterpieces, Theodore Decker (Oakes Fegley), 13, loses his beloved mother when a terrorist bomb goes off, killing many. In the panic, the boy keeps a small painting titled The Goldfinch from the bombing as a remembrance and a source of hope.
He's taken in by a wealthy Upper East Side family, the Barbours, in New York City. However, when his deadbeat father, Larry (Luke Wilson) and his new girlfriend, Xandra (Sarah Paulson) show up, Theo is whisked away to Las Vegas. With little supervision, Theo starts drinking and taking drugs.
Years later, Theodore (Ansel Elgort) returns to New York, but he's racked with guilt when he's accused of stealing the painting, which he has concealed in a storage locker.

Based on the novel of the same name by American author Donna Tartt.
Movie Releases by Year
2024 • 2023 • 2022 • 2021 • 2020 • 2019 • 2018 • 2017 • 2016 • 2015 • 2014 • 2013 • 2012 • 2011 • 2010 • 2009 • 2008 • 2007 • 2006 • 2005 • 2004
Search SBM Archives