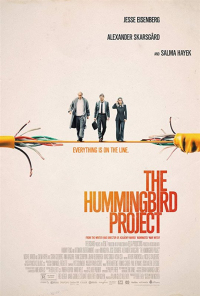 The Hummingbird Project
| | |
| --- | --- |
| Release | March 15, 2019 (Wide) |
| Cast | Jesse Eisenberg, Alexander Skarsgård, Salma Hayek, Michael Mando |
| Director | Kim Nguyen |
| Writer | Kim Nguyen |
| Genres | Comedy, Drama, Thriller |
| Studio | The Orchard/Elevation Pictures |
| Length | 111 mins. |
| Website | www.thehummingbirdproject.film |
Synopsis
New York cousins Vincent Zaleski (Jesse Eisenberg) and Anton Zaleski (Alexander Skarsgård) are a pair of high frequency traders, in which every millisecond could mean a difference of millions.
Determined to beat their old boss Eva Torres (Salma Hayek) at getting stock market quotes faster, they come up with a way to get them in 16 milliseconds—one millisecond faster than everyone else. They estimate that would earn them roughly $500 million per year.
However, Eva isn't one to take that lying down. She knows what the two are up to and she prepares to devise a way to ruin their plans.
Movie Releases by Year
2024 • 2023 • 2022 • 2021 • 2020 • 2019 • 2018 • 2017 • 2016 • 2015 • 2014 • 2013 • 2012 • 2011 • 2010 • 2009 • 2008 • 2007 • 2006 • 2005 • 2004
Search SBM Archives