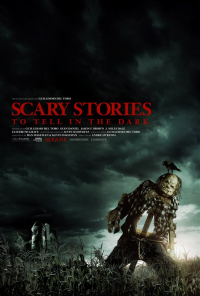 Scary Stories to Tell in the Dark
| | |
| --- | --- |
| Release | August 9, 2019 (Wide) |
| Cast | Zoe Margaret Colletti, Michael Garza, Gabriel Rush, Austin Abrams, Dean Norris, Gil Bellows, Lorraine Toussaint, Austin Zajur, Natalie Ganzhorn |
| Director | André Øvredal |
| Writer | Dan Hageman, Kevin Hageman |
| Genres | Horror |
| Studio | CBS Films, Lionsgate/Entertainment One |
| Length | 111 mins. |
| Website | ScaryStoriesToTellInTheDark.com |
Synopsis
In the small town of Mill Valley, for generations, the shadow of the Bellows family has loomed large. In their mansion on the edge of town, Sarah Bellows (Kathleen Pollard), a young girl with horrible secrets, has turned her tortured life into a series of scary stories, written in a book that has transcended time—stories that have a way of becoming all too real for a group of teenagers who discover Sarah's terrifying tome.
After reading the book, the teens discover it taps into their darkest fears, creating terrifying manifestations that come after them. Now the teens must face their greatest fears in order to save their own lives.
Inspired by one of the most terrifying children's book series of all time.
Movie Releases by Year
2024 • 2023 • 2022 • 2021 • 2020 • 2019 • 2018 • 2017 • 2016 • 2015 • 2014 • 2013 • 2012 • 2011 • 2010 • 2009 • 2008 • 2007 • 2006 • 2005 • 2004
Search SBM Archives