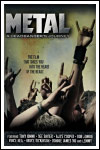 Metal: A Headbanger's Journey
| | |
| --- | --- |
| Release | March 31, 2006 (Limited) |
| Cast | Tom Araya (Slayer), Alice Cooper, Bruce Dickinson (Iron Maiden), Ronnie James Dio, Angela Gossow (Arch Enemy), Tony Iommi (Black Sabbath), Kerry King (Slayer), Geddy Lee (Rush), Lemmy (Motörhead), Tom Morello (Audioslave), Vince Neil (Mötley Crüe) |
| Narrator | Sam Dunn |
| Director | Sam Dunn, Scot McFadyen, Jessica Joy Wise |
| Writer | Sam Dunn, Scot McFadyen, Jessica Joy Wise |
| Genres | Documentary |
| Studio | Séville Pictures |
| Length | 96 mins. |
| Website | www.metalhistory.com |
Synopsis
Sam Dunn is a 30-year old anthropologist who wrote his graduate thesis on the plight of Guatemalan refugees. Six years ago he decided to study the plight of a different culture, one he has been a part of since he was twelve years old: the culture of heavy metal.
Sam's best friend Scot McFadyen was working as a music supervisor in film at the time and had for many years reluctantly accompanied Sam to metal concerts. He felt that Sam's study of heavy metal culture would make a fascinating subject for a documentary. So together they embarked on a global journey to make the first in-depth film on this music and its culture.
"Metal: A Headbanger's Journey" follows Sam's quest to find out why heavy metal has been consistently stereotyped, dismissed and condemned and yet is so passionately loved by its millions of fans. Along the way he examines metal's obsession with some of life's most provocative subjects – sexuality, religion, violence and death – and discovers some things about the culture that even he can't defend.
Shot on location in the UK, Germany, Norway, Canada, and the U.S., this documentary is an exploration into a long-misunderstood art form and a window for the outsider into the spectacle that is heavy metal.
Movie Releases by Year
2024 • 2023 • 2022 • 2021 • 2020 • 2019 • 2018 • 2017 • 2016 • 2015 • 2014 • 2013 • 2012 • 2011 • 2010 • 2009 • 2008 • 2007 • 2006 • 2005 • 2004
Search SBM Archives